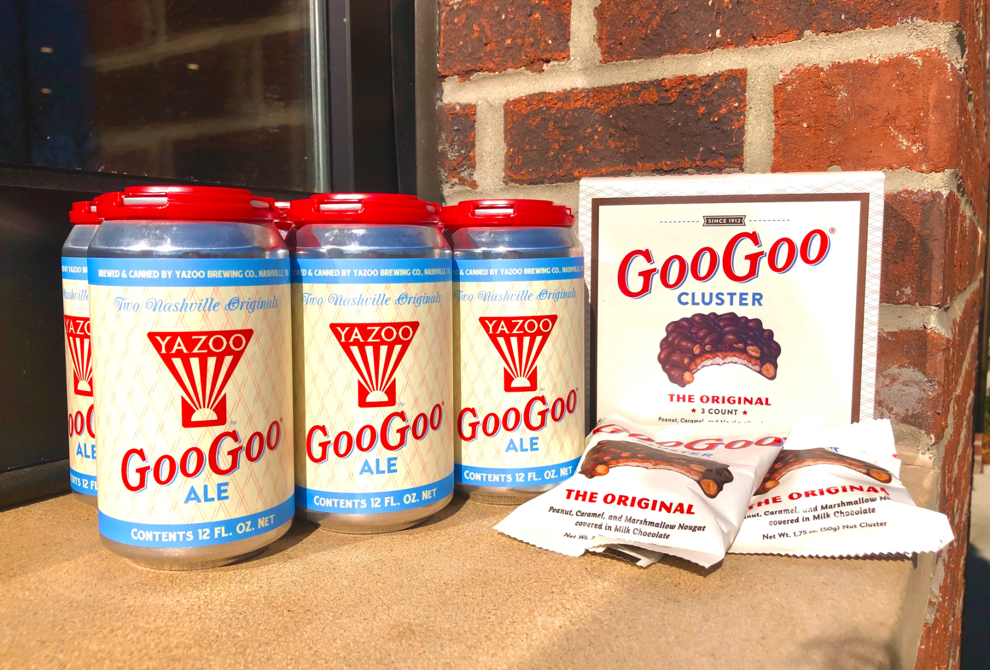 I know it seems like there's some sort of Goo Goo story here every week, but hey, the local candy makers have been keeping busy! Here's a new bit of news from the only cluster that we can currently be happy about: a recent collaboration with another beloved Nashville brand, Yazoo Brewing Co. Together they've created a new beer they're calling Goo Goo Ale.
Chocolate, peanut butter and beer? That's not nearly as crazy an idea as you might first think. The Peanut Butter Milk Stout from TailGate has been one of the brewery's most popular beers for years, and chocolate stouts are a longtime tradition as well. Yazoo owner Linus Hall and his talented brewing staff created a series of test batches using some of Goo Goo's ingredients — such as vanilla beans, peanut butter powder and cocoa nibs — combined with various dark ales. The result is a new beer that all involved agree is an excellent pairing with a Goo Goo Cluster.
"We were thrilled when Beth Sachan, the VP of Sales and Marketing for Goo Goo Clusters, reached out to us to see if we'd be interested in creating a beer inspired by the Goo Goo Clusters," says Hall. "We had the beers ready, and tasted through them all with Beth and Valerie from Goo Goo Cluster, comparing the flavors of the beers with the candy. It was hard work, but someone had to do it!"
In the end, they decided on a dark ale, steeped in the fermenter with real vanilla beans, peanut butter powder and Ghana cocoa nibs. The beer should be out in the Nashville market just in time for the Thanksgiving and Christmas holiday season — if you're looking for something unique to set out on your table or to include with the meal you're dropping off in your parents' carport before Zooming with them. "It was a challenging beer to brew, with all the unusual ingredients we used," says Hall. "But after tasting it, we all agreed it was worth it! It won't be around long, so grab some when you see it."
I'm already thinking of making a chocolate gravy for some biscuits using a can of Goo Goo Ale, so I'll let you know if it turns out!