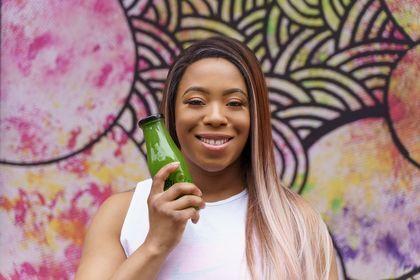 Health and wellness business InnerG will open in North Nashville's Buchanan Arts District on Friday, July 9.
According to a release, the business — which will focus on nutrition juices and yoga classes — will be located at 1807 Ninth Ave. N. The wife-and-husband team of Nielah Burnett and Trey Roberts are the owners of the business.  
InnerG has been operating as a juice subscription service since 2017. The release notes the brick-and-mortar location will offer a wider selection of menu items as has been the case, as well as daily yoga sessions. The InnerG menu features cold-pressed juices that are "fresh handcrafted" each day.
Nielah Burnett (pictured), inspired to improve her health after losing a child, says InnerG also will offer free health classes in both juicing and yoga.
The juice and yoga business will operate from a building home to gallery and photography space Van Leer Studios and clothing store The Trenches. It is located across Ninth Avenue from Jones Paideia Elementary Magnet School, with Slim & Husky's Pizza Beeria locate nearby.
"InnerG was meant to have a home in North Nashville," Burnett says. "We sought out places along Jefferson Street and near Fisk, but our idea was not well received by property owners. We considered East Nashville, Antioch and Madison, but didn't feel connected enough to the residents or to the business communities in those areas.  
"When Slim and Huskies officially opened its first location, we immediately knew that we needed to open on Buchanan," she adds. "They showed us that a business could thrive in a rapidly changing neighborhood, while still focusing on its targeted consumer. Even with Slim and Huskies, Willie Bs, Southern V and Minerva, North Nashville is still considered a food desert. We knew fresh juice would help change that narrative. It is also a bonus that the building we occupy was once a grocery store. We get our shot at helping to revitalize a once thriving neighborhood."
An entity affiliated with David Crabtree, executive vice president with Nashville-based real estate company Brookside Properties, owns the building from which InnerG will operate. The property has an alternative address of 904 Buchanan St.