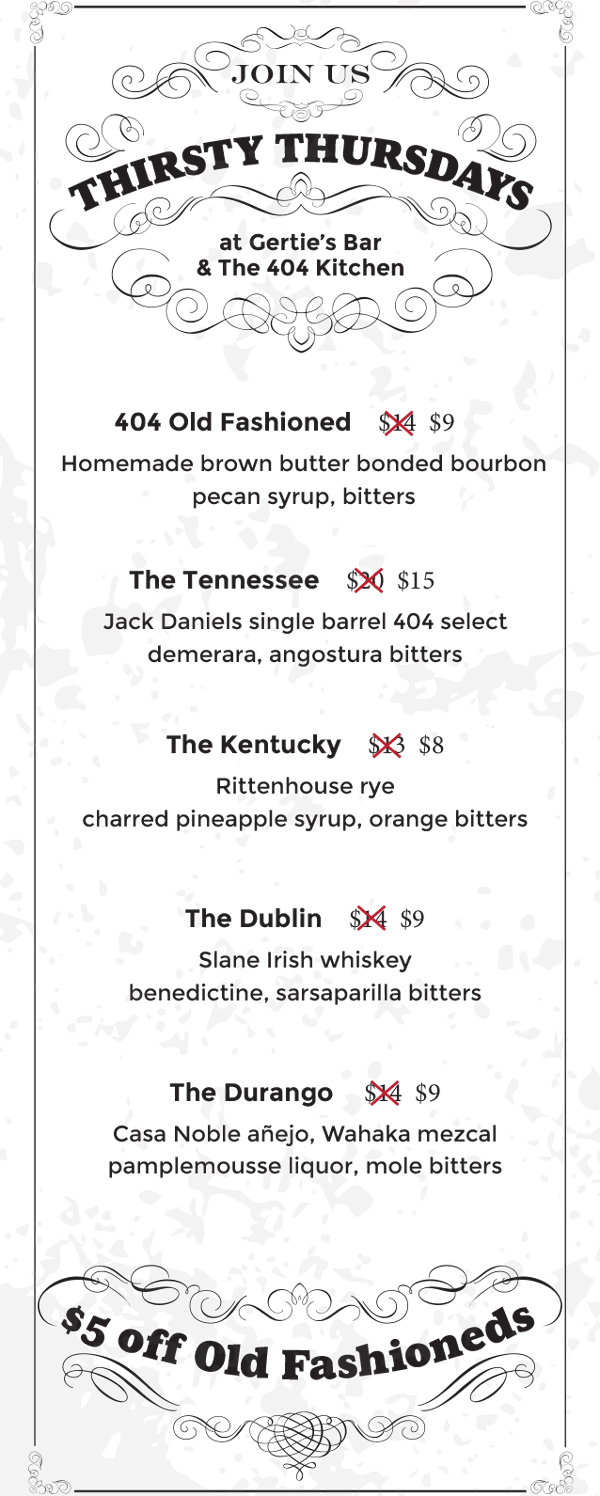 Gertie's Bar, the incomparable bar on the ground floor of The 404 Kitchen in the Gulch, already offers one of the best deals in town with their Whiskey Wednesday promotion, in which all of their whiskeys are offered at half-price. But not everybody likes to drink their brown water straight, so they've come up with another way to drive some business. Thirsty Thursdays run all night at both Gertie's and 404 and offer a special menu of Old Fashioned cocktails at $5 off their normal price.
This includes the iconic homemade brown-butter version made with 100 proof bonded bourbon that has been washed with brown butter, pecan syrup and bitters for just nine bucks, and that's something to get excited about!
Here's the full list of drinks that are on special from 5-9 p.m.
Old Fashioned Thirsty Thursday Menu
404 Old Fashioned
Homemade brown butter bonded bourbon, pecan syrup, bitters
The Tennessee
Jack Daniels single barrel 404 select, demerara, angostura bitters
The Kentucky
Rittenhouse Rye, charred pineapple syrup, orange bitters
The Dublin
Slane Irish Whiskey, Benedictine, Sarsaparilla bitters
The Durango
Casa Noble Añejo Tequila, Wahaka Mezcal, pamplemousse liqueur, mole bitters
Walk-ins are welcome, and it could lead to crawl-outs.