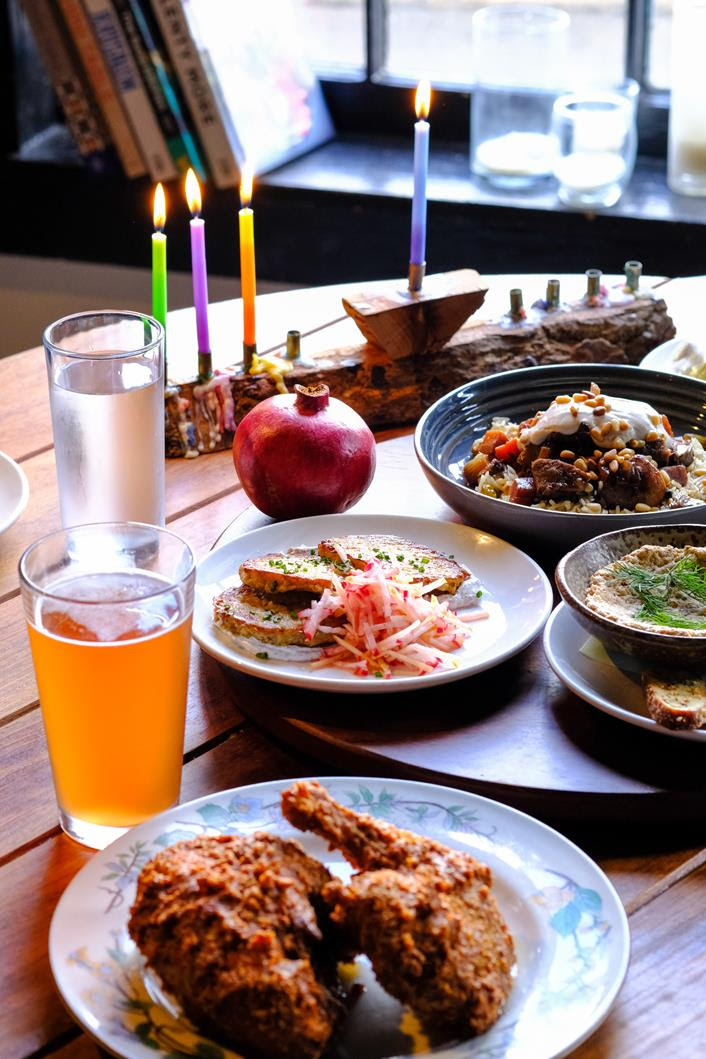 We're about to enter into the Hanukkah season, those eight crazy nights that fall between Dec. 10 and Dec. 18 this year. In celebration of this festival of lights, local restaurants Butcher & Bee and The 404 Kitchen are offering special Hanukkah menus  featuring some inventive takes on holiday classics.
Make a reservation at The Bee anytime between Dec.10-18, and you'll have special access to some fun à la carte Hanukkah fare in addition to their regular menu.
Here's what they'll be whipping up (besides the feta):
Smoked trout dip topped with dill and a sprinkling of everything bagel chips.

Cauliflower latke with sumac labneh, apple & radish.

Winter inspired tabbouleh with pops of pomegranate and fresh herbs.

Fried chicken spiced with Aleppo peppers, topped with cheddar and finished with a schmear of Duke's mayo.

Lamb stew with a side of rice pilaf finished with a drizzle of yogurt.

Gelt trifecta. 

Sweet treats:

Ricotta doughnut with blackberry jam for dipping.

Babka made with chocolate and tahini.
At The 404 Kitchen, they are accepting pre-orders through Wednesday, Dec. 9 at 6 p.m. for a full carryout Hanukkah meal to pick up Dec. 10-12. The menu looks like it was crafted by a very talented bubbe:
FIRST COURSE

(all included)

Matzo Ball Soup

Potato Latkes with applesauce and sour cream

Beet Salad with arugula, feta, farro, and schmaltz dressing




ENTRÈES

(select one per guest)

Brisket with sauce and onions

Baked Salmon with sour cream and dill

Roasted Chicken with preserved lemon, olives, and onions




SIDES

(all included)

Lemon Ricotta Kugel with tart dried cherries

Roasted Carrots with za'atar and sumac




DESSERT

Goat Cheese and Apricot Babka
The meals from 404 will be available during operating hours on:
Thursday, Dec. 10 from 5-0 p.m.

Friday, Dec. 11, from 5-10 p.m.

Saturday, Dec. 12, from 5-10 p.m.
You can also dine-in for $44 per person with choice of entrèe (first course and sides served family style) or $18 per child (children's portion, under 12 years old) if you're bringing the kids.
There's also a pre-order option availaible, served family style with reheat instructions, that runs $80 per 2 people (orders taken in increments of 2).
Email your takeout order to events@the404nashville.com, or make a dining reservation at the restaurant website.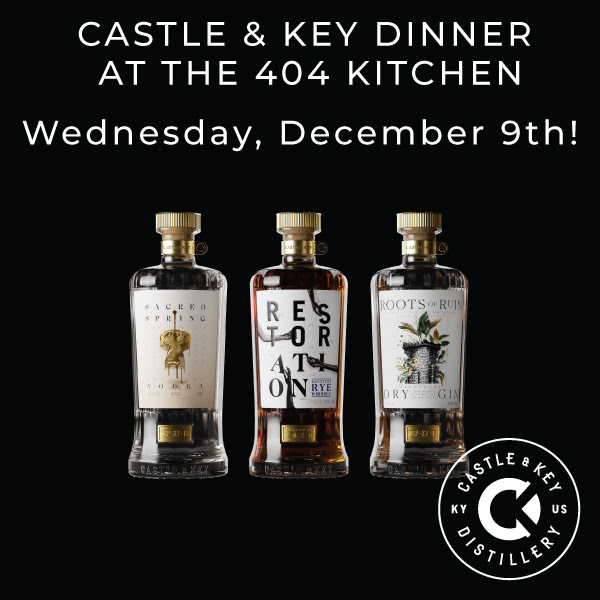 Speaking of 404, they're also hosting a special whiskey pairing dinner with Kentucky distillery, Castle & Key on Wednesday, Dec. 9. Chef Matt Bolus will pair five courses with Castle & Key products, including their much-anticipated new rye whiskey, the first brown liquor to come out of the young distillery with a long pedigree dating back to when it was the old E.H. Taylor Distillery. Their Restoration Rye was just released last week, so I imagine this will be the first chance that most folks will have to try it out.
The dinner starts at 6 p.m. and costs $75 per person. Call 615-251-1404 to make your reservation. Here's the planned menu to get you excited:
FIRST COURSE

Beet Salad

farro | arugula | goat cheese | citrus

Served with C&K gin




SECOND COURSE

Caviar

sourdough | lump crab | egg | crème fraîche

Served with C&K vodka




THIRD COURSE

Pork Ragu

roasted pumpkin | frascatelli | sage

Served with C&K Rye Whiskey (first release)




FOURTH COURSE

Moulard Duck Breast

butternut squash | golden raisins | sunflower seeds | sweet potato | dried apples | rutabaga | plum

Served with C&K Fall Gin old fashion




FIFTH COURSE

Honey Crisp Apple Tarte Tatin

puff pastry | caramel | crème fraîche ice cream

Served with a warm spiced cider and C&K Rye