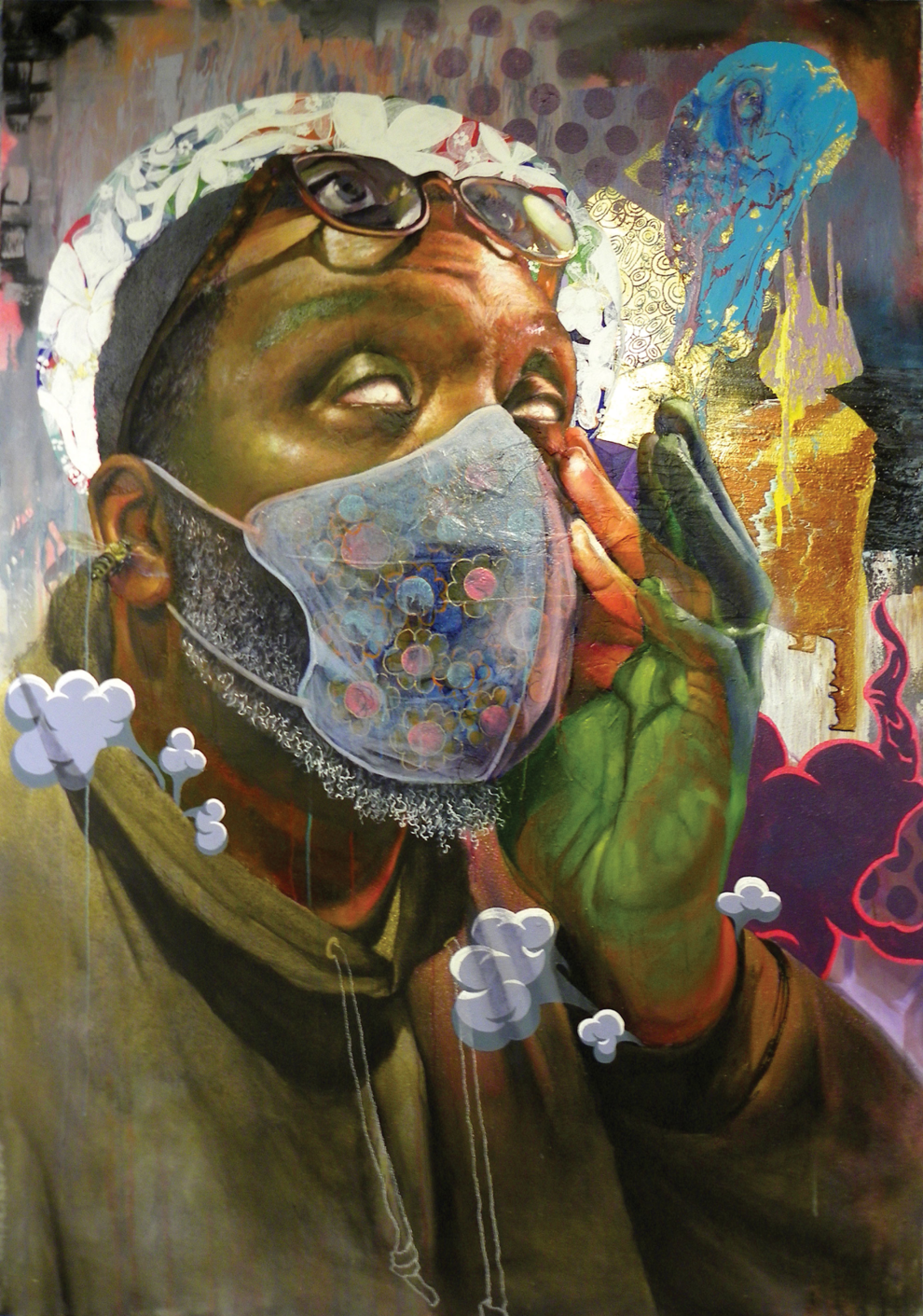 Sam Dunson's Black Flower, currently on view by appointment at The Rymer Gallery, is a collection of allegorical paintings that reveal the artist's perspective on very pressing issues of Black male existence in America. Coming out of a heated summer of Black Lives Matter protests, these works couldn't be timelier, although they are essentially timeless: "Mama" is a heart-wrenching reminder of the killing of George Floyd and the culture that surrounds it. "Self Portrait With Blind Faith" paints a picture of how we move forward without clear direction. And "Dressed Up" allows us to see both life and death anew.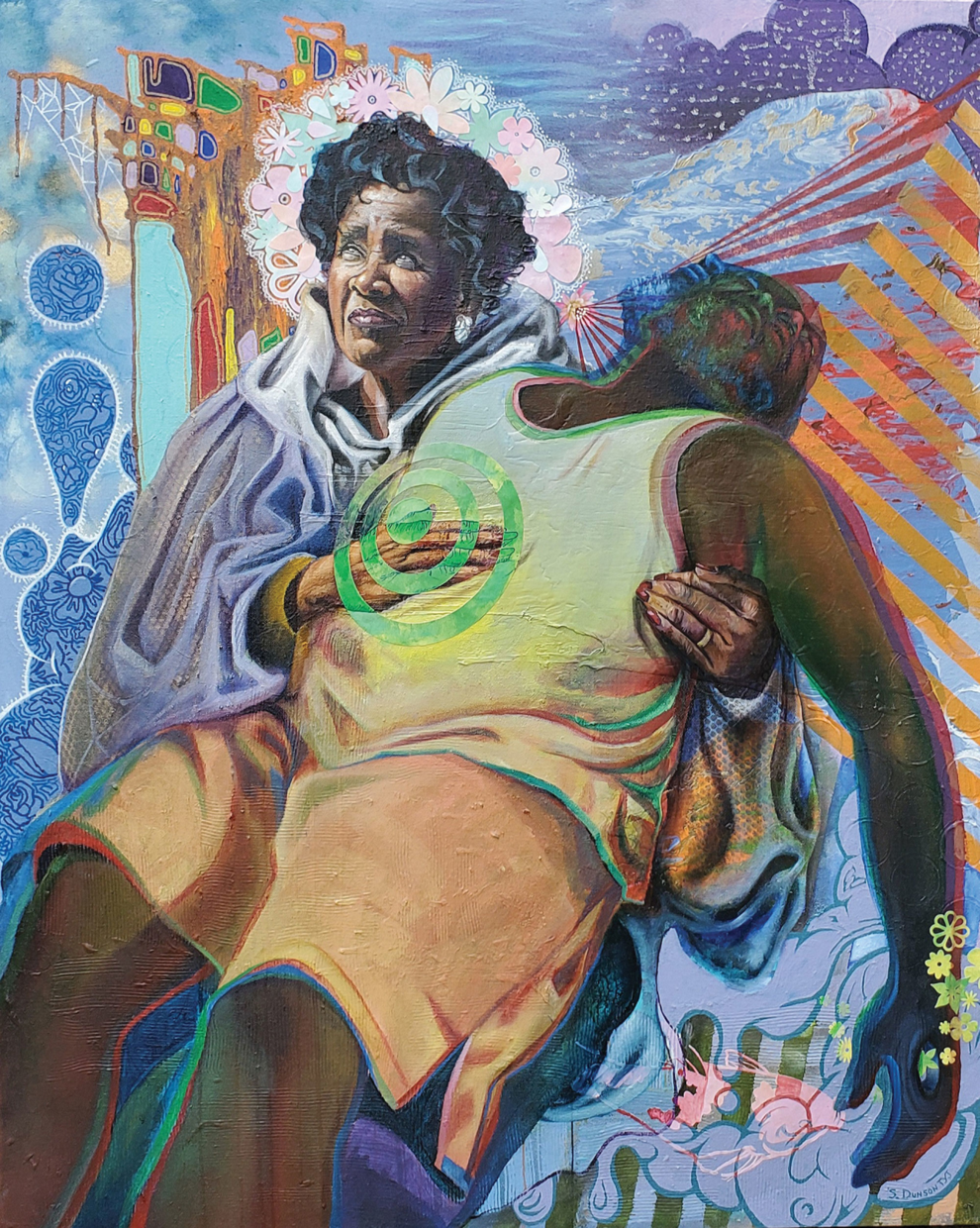 The exhibit's overall allegory is a tragic tale — one that might seem otherworldly, but is reality for many. "Mama" comes in the wake of the viral video of Floyd calling out for his mother as Minneapolis police officer Derek Chauvin holds him to the ground with a knee on his neck, preventing Floyd from breathing. In this piece, Dunson includes a mother figure holding a wounded son. The artwork undeniably speaks to the Black male connection to the mother figure, who often receives the most credit for raising children in the harshest circumstances. In "Mama," the male figure is unresponsive, and the mother figure holds the pain of his wound in her hand, and also in her gaze. The look on her face is representative of the pain mothers who have tragically lost their sons feel — hurt mixed with defiance.
"Self-Portrait With Blind Faith" is a novel painting that lends itself well to this year's events — both the pandemic and civil unrest. While the world was sheltering in place as we tried to understand how to cope with the airborne virus that would kill hundreds of thousands of people around the world, protestors took to the streets to protest police brutality with a faith that surpassed reason. Dunson paints himself without the irises of his eyes, his glasses sitting on his forehead. His visual situation is faithfulness. While the number of COVID cases was constantly increasing, droves of people incensed due to police violence exercised their constitutional right to protest with the same type of faith that Black communities throughout history have utilized.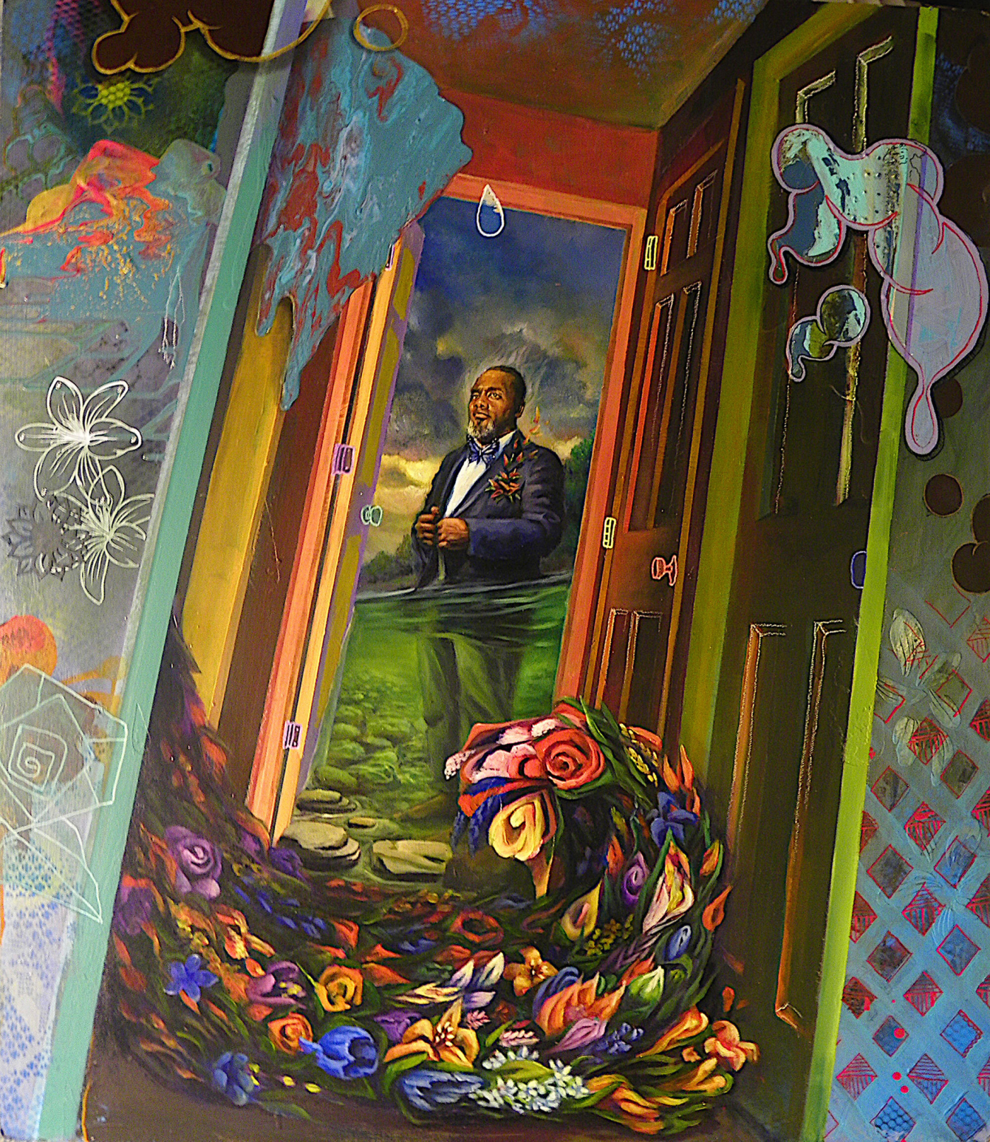 In his artist statement, Dunson says his aim is to detail man's desire to focus "on demise, death and destruction." This body of work falls in line with the dominant narrative surrounding the Black male, and it speaks to what so many of us are fighting against in this moment. "Dressed Up" is a clear juxtaposition of life and death that works on a formal and allegorical level — it is beautifully rendered and imaginatively conceived. A doorframe boxes in the image of a man who is waist-deep in water with flowers cascading down the hallway, and it's an ingenious way to suggest a funeral to the viewer without being heavy-handed about it.
There are ways to portray the Black male existence without focusing on demise, death and destruction. Dunson did not do it in this body of work. Still, this conversation is important right now. Dunson's intention is to focus on growth, but it's unclear how he does that in this collection.
The allegorical nature of Dunson's paintings could be stronger. Black Flower walks us through the maturity of a man, but doesn't speak to his adolescence; the narrative seems unfinished. The paintings depict a life cycle, but man does not come into existence fully formed. It would be helpful to see the developmental stages of the Black male. "The Try Cycle," a tricycle covered in flowers, might attempt to give us a sense of youth, but as a sculpture, it strays from the rest of the paintings. We cannot truly appreciate the growth of the Black man in these artworks without seeing from where he came.
It's not difficult to instantly liken the title of Dunson's exhibition to the ideology of Black Power, but Dunson seems to dismiss the connection. Instead, he states that flowers "serve as symbols of growth and in many cases as life itself." While Dunson's intentions are valiant, this year, Black Power made a comeback, and it brought together a globe full of allies. Perhaps leaning into the philosophy of Black Power and building with thinkers who have already expressed their thoughts on Black male existence — such as Amiri Baraka — could encourage further growth. Leading with Black Power, Dunson might see an already-existing body of work that challenges the status quo, and offers a richer understanding of the existences of Black men. After all, the meaning and philosophy behind an artwork are just as important as its beauty.