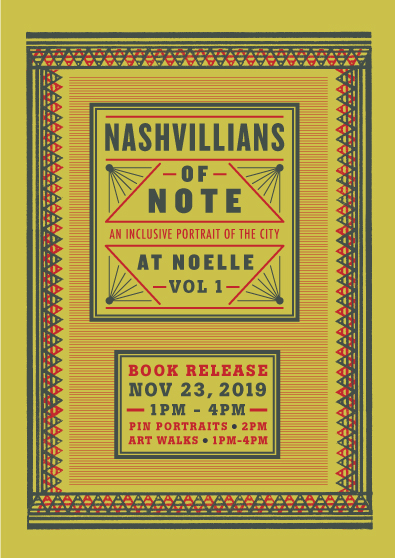 Under thoughtful leadership, a hotel can be a place that doesn't just cater to tourists, but reflects the history and vitality of the local luminaries who make the city special. At Noelle, which is located at Fourth Avenue North and Church Street, Nashville's artists are part of the effort.
Bryce McCloud — director of programming and creative projects at Noelle, as well as the big brain behind Isle of Printing — spearheaded a project that opened with the hotel: Nashvillians of Note is a hotel-wide exhibition of portraits depicting more than 100 of our city's finest. And now its companion piece, a mighty good-looking book printed at Isle of Printing, is available. You can get a copy Saturday, Nov. 23, at 1-4 p.m., when Noelle will host a tour of hotel floors to see the portraits. As a bonus, you can get a custom pin portrait made by one of the artists who contributed to the series. 
The series features 12 artists, including McCloud, Alex Lockwood, Julia Martin, Vadis Turner, Rob Matthews and Samuel Dunson. Their portraits are diverse in materials — from pen-and-ink to photography, collage and painting. What I love about the project is its inclusivity. The collection features writers Zora Neale Hurston and the Scene's late editor-in-chief Jim Ridley; artists William Edmondson, Aaron Douglas and Peggy Snow; musicians Jessi Zazu, Mike Floss and Dave Cloud; community leaders Renata Soto and Fannie Mae Dees and many more. Rob Matthews profiles 10 of the activists involved in the student-led civil rights movement. Around the hotel and in the book, you can read short, carefully crafted biographies of each of these figures.  
The book is a beauty, and it would make a great gift for out-of-town friends and family members who would like to get to know the city in an intimate, authentic way. But it's also a book that any Nashvillian would be proud to own. Get your copy on Saturday, and hobnob with some of Nashville's best artists.