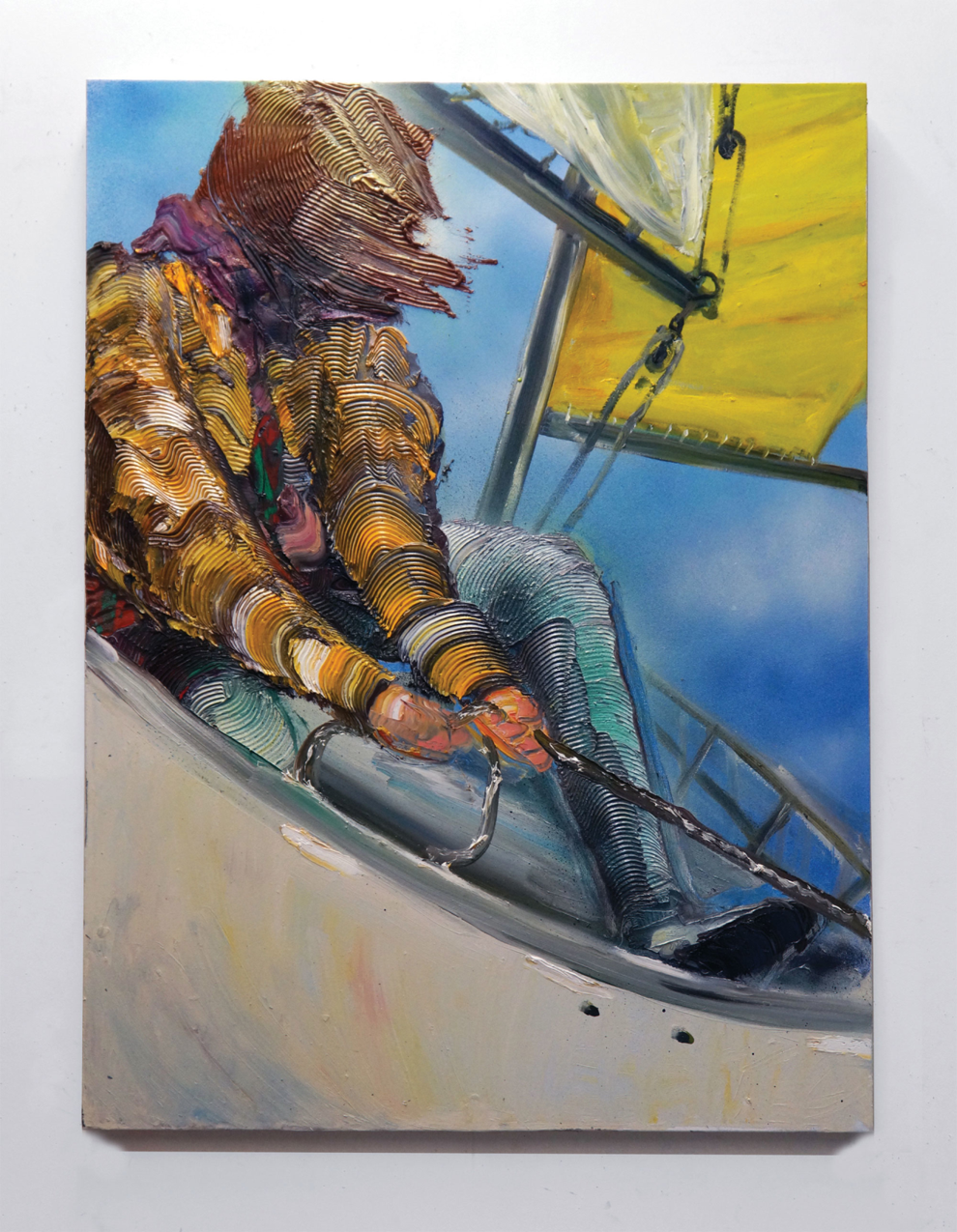 The first time I saw Eleanor Aldrich's work was in 2016, when her exhibition Denisovans was at Channel to Channel. That display showcased the artist's outrageously painterly works, and included a number of portraits with titles like "Big Blond" and "Teen Angst." In that show — and since — Aldrich has also made sculptures, painting-sculpture hybrids and texture study paintings of flesh pressed through the weave of a hammock or the mesh of a lawn chair. It's likely that all of these works scratch Aldrich's obvious itch for making heavy, physical pieces that seem to ooze out of the picture frame. 
But it's in Aldrich's portraits that her boldly colored and deeply textured surfaces become charged. With portraits, these elements are balanced against the stillness of her subjects, whose faces are always obscured by hair or clothing, or by blurs of pure painterly abstraction. Aldrich's That Feeling When, which opened at Channel to Channel on Nov. 7, features sculptures and studies of flesh against lawn chairs, but it's dominated by a selection of portraits that represent a return to form for the artist — and it's some of her strongest work to date.
"On the Boat" is the best work in the show, and it's among the best paintings Aldrich has produced. The portrait depicts a woman sailing. She pulls on a rope, her face covered in the torrent of her wind-whipped chestnut hair. She braces her foot against the railing of the ship, which is pitched at a dramatic angle — viewers might imagine waves and gales and salt and spray, but Aldrich doesn't actually paint any of them. Her portraits give us little narratives packed with big drama, and it's those elements that make these works so much more interesting and engaging than pieces that seem mostly preoccupied with texture for its own sake.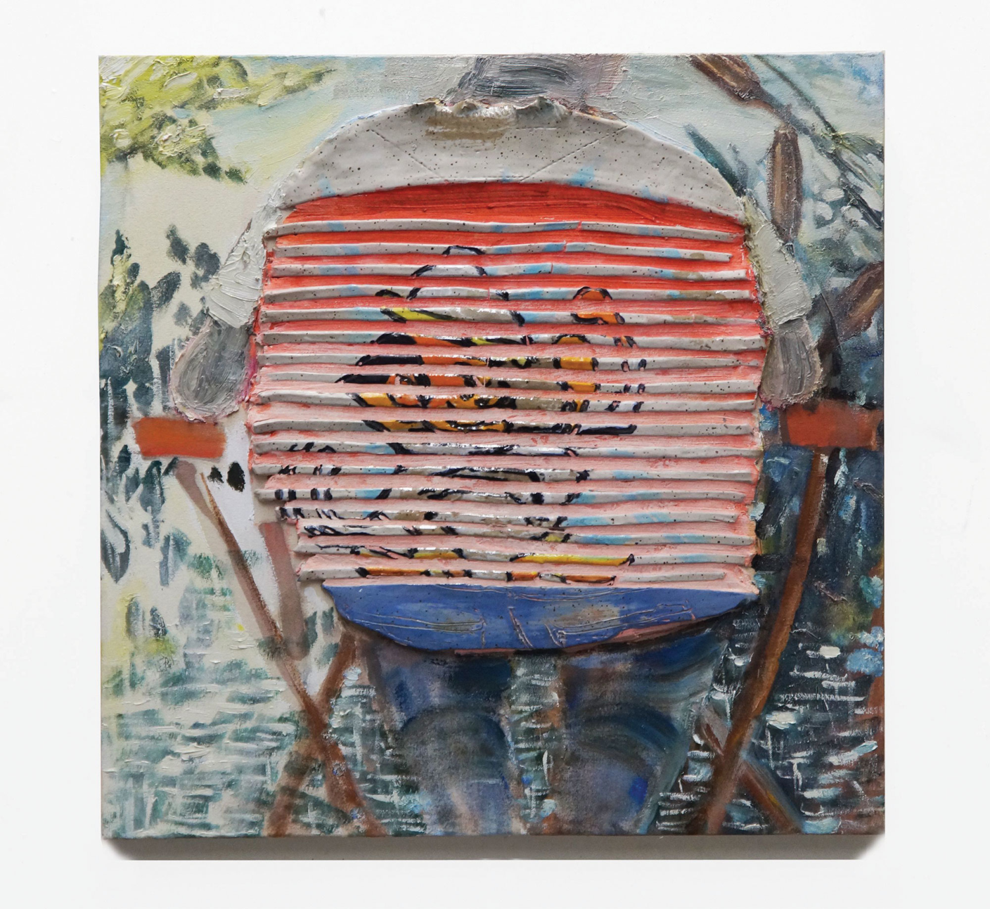 In Aldrich's work, formal elements like color and especially texture are pushed to the forefront, and viewers visualize the peril on display in "On the Boat" only after they've stopped to marvel at the frosting-like smears of gooey color that render the scene. Aldrich's sailor is wearing blue jeans, which the artist paints in a patchwork of blues and whites iterated across a repeating texture of horizontal bands. Aldrich mixes her paint with materials like caulk and silicone to realize the alchemy of plastic-y pigments that don't drip or splatter with the frenzied stylistics of action painting. This combination of profusions of paint organized in measured textures can be literally mesmerizing, as Aldrich's undulating surfaces lull viewers with a ceaseless promise of pure sensuality. 
The sailor's sweater is suggested by another succession of thick black, yellow and white stripes — a few punches of red make for dramatic complements. The face is covered in a hirsute mask that suggests the shape of a bird's head in profile. There's dreadful horror in the monstrous visage, realized by the beak-like brushstrokes of blackish-brown that obscure the sailor's eyes, nose and mouth. But Aldrich's faceless, isolated figures haunt That Feeling When with a wide range of nuanced moods –— lonely contemplation, quiet desperation, silent relaxation — despite their lack of expressions.
Aldrich's show also includes a handful of works that complement the portraits, but mix up the artist's more familiar elements. In these works, Aldrich paints on surfaces that have been covered in uniform vertical strips of caulk. The textures don't play into the subjects of these paintings so much as create a consistent 3D pattern across the whole surface of a wood panel covered with canvas. 
Two of the most interesting works in this style give us graphic renderings of domestic interiors laid out in blocks of color and elemental shapes. "Kitchen Sink" and "Ironing" depict counters, faucets and ironing boards through a distorted perspective that's unnervingly deep and narrow, vertiginous and claustrophobic. The caulk brings lots of texture to these works, and Aldrich's paint appears to be applied in chromatic washes of yellow, pink and blue that seem serene given their off-kilter surroundings. In fact, Aldrich uses the repeating vertical textures to create vividly colored lenticular illusions in these works, which only reveal themselves as viewers move past the paintings.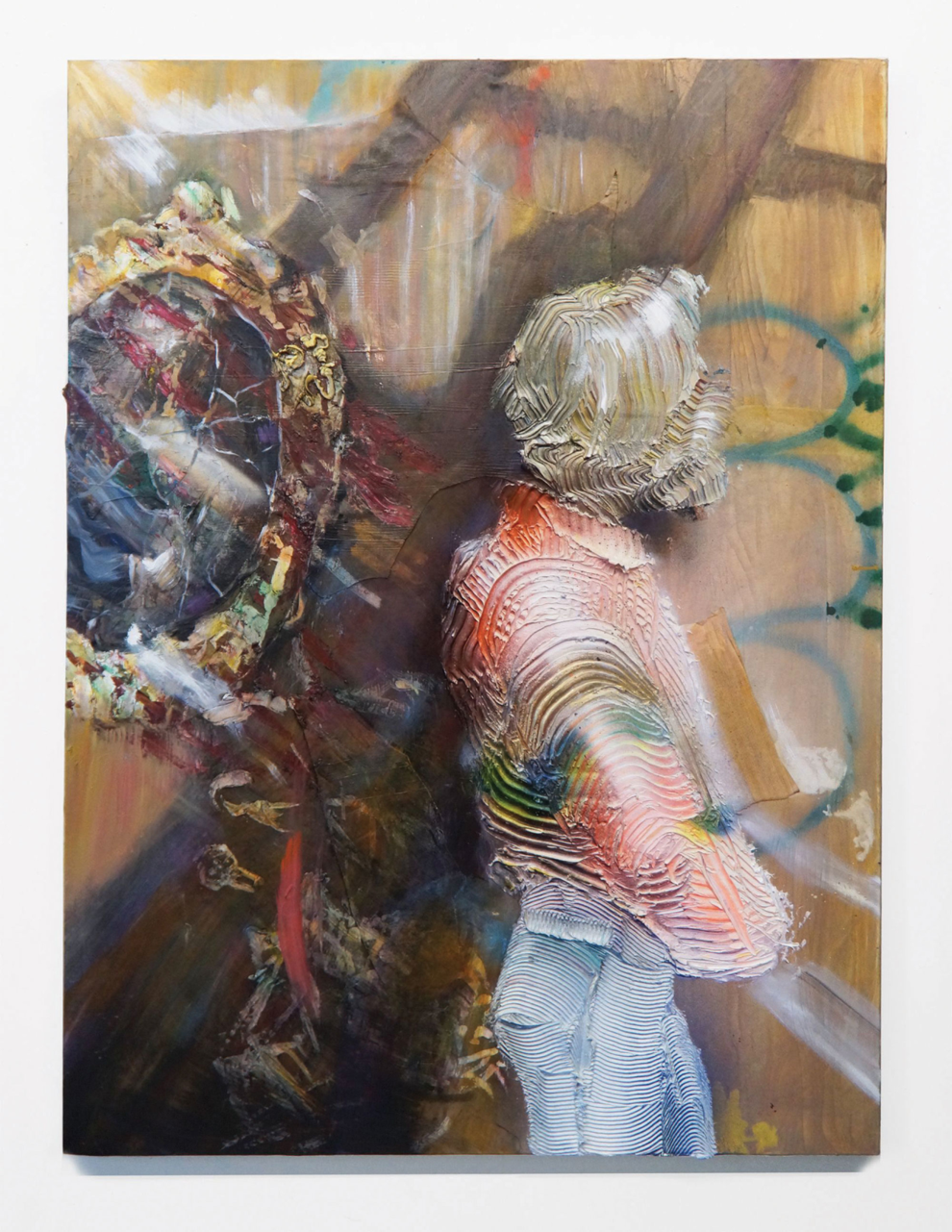 In addition to their formal qualities and their narrative content, Aldrich's works also comment on traditional gender roles in Western society. Her narrative portraits are mostly inspired by the covers of Nancy Drew novels. Drew, the "girl detective" who first appeared in print as a female counterpart to the Hardy Boys' detective stories, was independent, strong-willed and adventurous — a genuine action hero for young girls. Aldrich's portraits capture similarly feisty sleuths in silicone, caulking and enamel paint, which Aldrich applies using grouting tools. In short, the artist uses the kind of traditionally masculine materials and tools you'd find at a hardware store to paint a young feminist hero. 
The relationship between materials and subjects is repeated in Aldrich's lenticular domestic scenes, where the trappings and settings of "women's work" are rendered with "masculine" materials. This thoughtful contrast between subjects and the stuff they're made of brings a conceptual depth to these works that might be overlooked given their arresting surfaces. Aldrich's paintings are super stylized, but also smart in substance. And in the five years I've been watching her practice evolve, it's only become more singular.