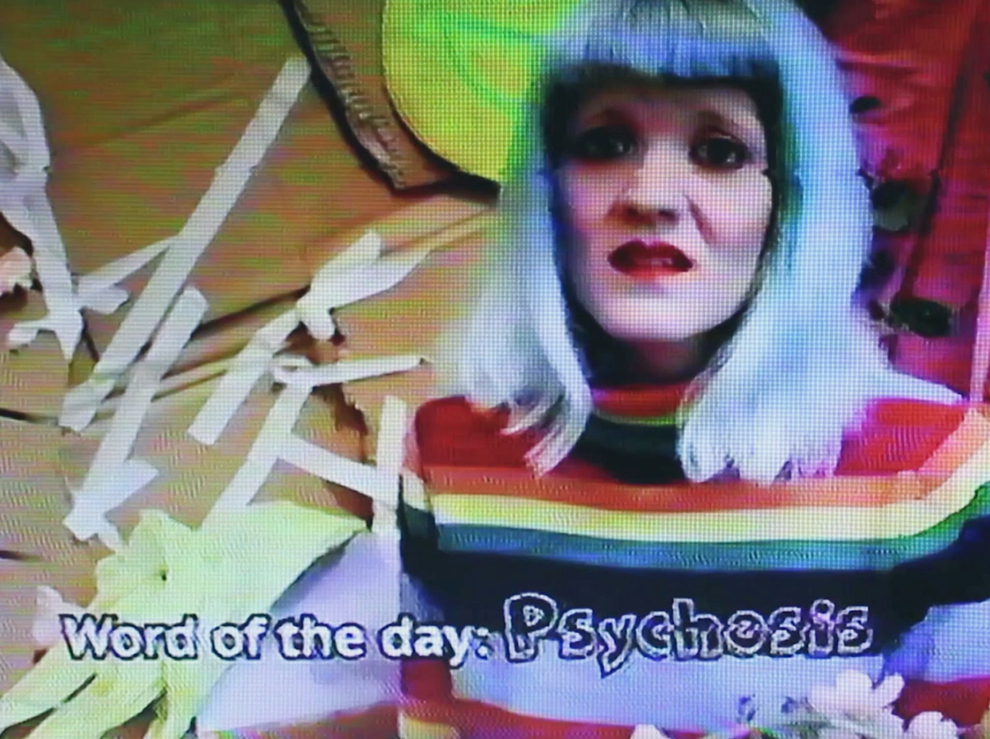 Joe Nolan is a 21st-century Renaissance man. He's a poet, singer-songwriter and intermedia artist — as well as one of the Scene's most longstanding cultural critics. In his new column "Critic/Ally," he'll muse about art, culture and whatever else comes across his periphery. Strap in, fans of the strange and obscure — the Scene's about to get a whole lot weirder.
---
Nashville artist Sophia Gordon-Stevens' new video installation at Turnip Green Creative Reuse engages marginalized artists to put a spotlight on mental illness. It's a funny, irreverent and insightful display that deconstructs stigma and creates conversation. 
With Miller's Grove Public Access, Gordon-Stevens recreates a 1990s suburban living room with white wicker furniture, loads of fake flowers and a console television complete with rabbit ears antenna and a VCR. Visitors can sit in a chair or on a small love seat while they enjoy a loop of videos presented as the programming on the exhibition's titular television channel. 
The detailing is intense: From the remote control and the programming guides on the coffee table to the VCR tape organizers, Gordon-Stevens' knack for production design informs every inch of this installation. The videos themselves are full of the audio/video noise and distortion common to old VHS tapes, and the aesthetics perfectly mirror the low-budget, amateur productions that marked the 1990s heyday of Public Access programming in a time before YouTube. 
Gordon-Stevens' videos send up New Age quacks and accidentally creepy kids' puppet shows to address issues like depression and invasive thoughts. Dylan Simon's "The Magick of Mental Health: Resistance Through Acceptance" is a dubious occult manifesto, while Tyler Worthington engages a conspiracy theory about UPC Codes to address traditional religion's resistance to the diagnosis of mental illness. Hilary Basing's video explores anxiety and dysthymia – persistent, mild depression. 
Next month the "channel" will feature a new lineup of videos, including contributions from Geraldine Lim, Nickie York and Ian Grant. Programming guides and limited edition VHS tapes are available for sale. Millers Grove Public Access runs through October 27. Check out an episode of Gordon-Stevens' "Happy Street Puppet Pals" below. 
Happy Street Puppet Pals - Ep. 01 from Miller's Grove Public Access on Vimeo.