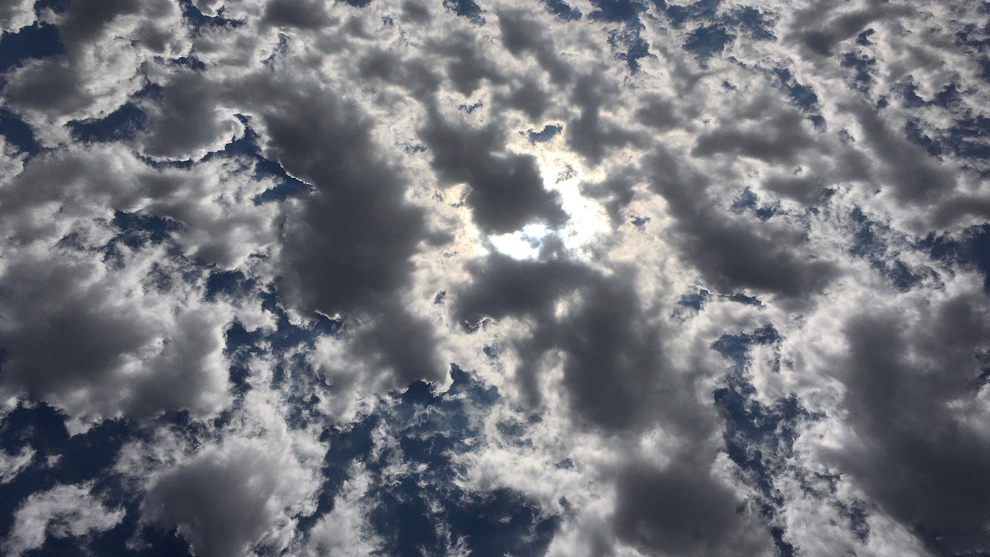 Whether you live in a house, an apartment building or an RV, whether you have a yard, a balcony or a window, artist Beth Reitmeyer has one suggestion for you: Look up at the sky. 
Reitmeyer is known for creating small-scale textile environments that have appeared at the Frist Art Museum, OZ Arts Nashville and more. Her tent-like structures are lit by string lights and contain dozens of plush sculptural pieces of varying sizes — stars with pockets for messages, pumpkins, geodes — and accompanied by ambient soundscapes. Reitmeyer encourages spectators to come inside, lie down or have a pillow fight. But now in the time of coronavirus, when close physical contact has the potential to be fatal, Reitmeyer has looked elsewhere. 
With her recent project We Lift Our Eyes, Reitmeyer collects photos that others take of the sky. It began as a simple exchange with a friend, a way for Reitmeyer to pause, to mark time and to think about others. When she became stuck at home, the ritual took on new meaning. "I was realizing that when I lift my eyes up, that's a hopeful thing, and it's also an attentive thing," says Reitmeyer. 
The collection, which you can view at weliftoureyes.com, includes photos of a stunning blood-orange Mother's Day sunset, a faint rainbow overlaying a pink-and-gray sky, and fluffy cumulus clouds that surround a bright sun, like you'd see in a Renaissance-era painting. 
The project is funded by the Metro Arts Commission's THRIVE program, which provides microfunding for individual artists and nonprofits that aren't already receiving granting support from the commission. Soon after the March 3 tornado and Metro's shelter-in-place order, the commission called a board meeting and decided to reallocate $50,000 of operational funding to a round of THRIVE awards. This time, the commission asked artists to propose a project showing how the tornado and pandemic have impacted their lives — for projects that could "uplift, support and connect the Nashville community while adhering to safer-at-home social distancing recommendations." Awards range from $500 to $2,500. 
We Lift Our Eyes provides a sense of connection to others whom we can't be with at this time. For Reitmeyer, the sky is "seemingly unaffected by what's going on down here."
"If I think too much about it," she continues, "it feels like the world is ending or it's changing and out of my control. But meanwhile, spring is happening, and the birds are back, and the clouds are going right on by. If I stop to watch them, at first glance it looks like they're not moving. But if I stand there for a minute or two, I can actually see they're going by pretty fast." 
Reitmeyer plans to print out all the photos as iron-ons and transfer them to fabric to create tapestries that can be hung in the waiting rooms of government offices.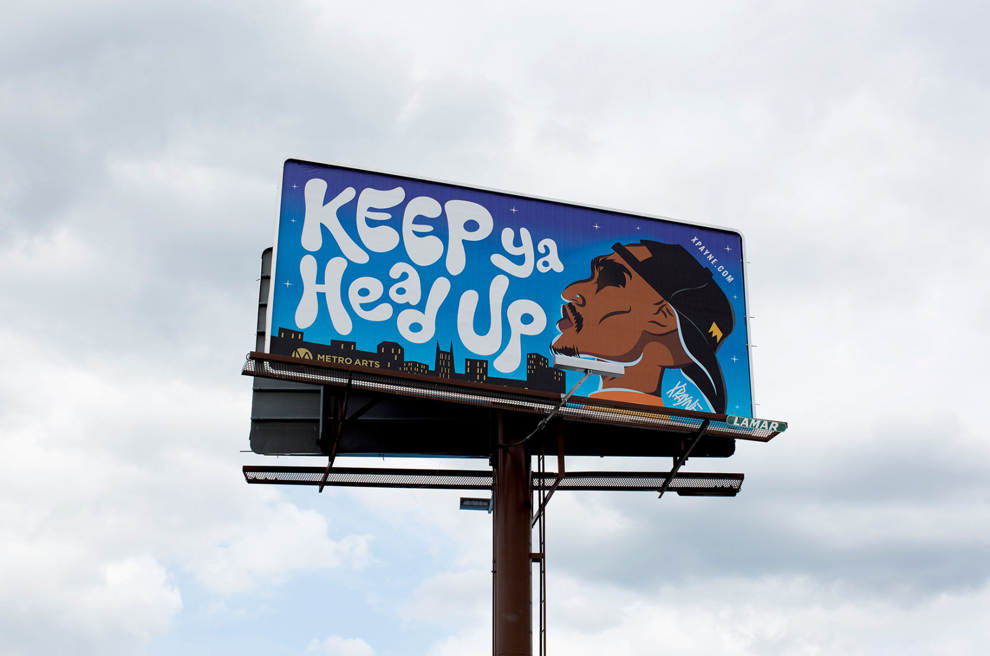 In another THRIVE project, Xavier Payne (aka XPayne) designed two billboards that speak to the resilience of Nashvillians. In one, located on Jefferson Street and 11th Avenue North, Payne puts Tupac Shakur in profile, a ball cap backwards on his head, looking at the words "Keep Ya Head Up," which appear in Payne's graffiti-inspired style. On another billboard on Main Street in East Nashville next to Jerry's Artarama, a young boy appears in profile, a bandanna knotted on his forehead in signature Tupac style, next to the words "Ooh child, things'll get brighter." 
In an Instagram post, Payne writes: "Tupac watches over the city, facing a message from his Black Feminist manifesto, 'Keep Ya Head Up.' … I was born in Michigan and moved to Nashville when I was little, so most of my family still lives up north. It's hard (and honestly scary) to tell you I have family affected by the virus, and I have friends affected by the tornado." 
The billboards act like a couplet, complementing one another in style and theme. It's also a nice touch that Tupac's "Keep Ya Head Up" samples The Five Stairsteps' "O-o-h Child." 
"I just want to help people forget, maybe for just a second, how scary this place can be," writes Payne. "I hope you all stay happy and safe. Wash ya hands." 
Among the list of THRIVE projects are "Zoom-prov" — virtual improv classes hosted by the group Unscripted; video classes on the craft of luthiery and songwriting with Delgado Guitars; and a visual-art educational video series called D.I.Y. Not? With Emily Sue Laird. One of the best projects comes from Elisheba Israel Mrozik, artist and owner of One Drop Ink Tattoo Parlor and Gallery.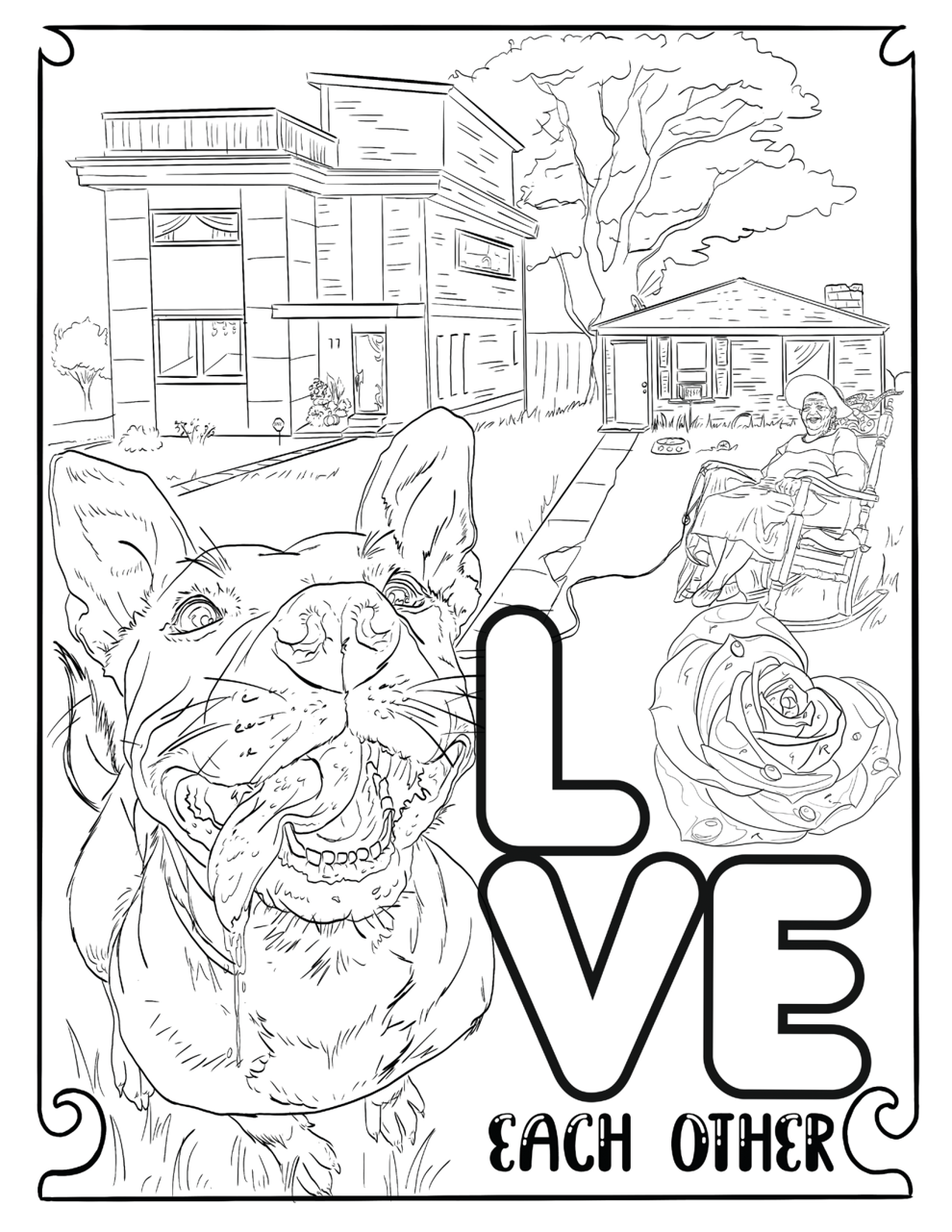 Mrozik created a coloring and activity book called Nashville Strong (which you can find at this link). As a founding member of the Jefferson Street Art Crawl, Mrozik has made her business a hub of creative activity, though it has been closed since the city issued its stay-at-home order. Despite these restraints, Mrozik wanted to focus her energy on rebuilding the city and boosting community engagement. She started driving around Nashville, snapping photos of people and places she came across.
Among the many illustrations inspired by those photographs are a man standing on a ladder beside a house, hammer in hand; smiling health care workers; and the activist group Gideon's Army standing together, its leader Rasheedat Fetuga talking to two kids. The book makes use of several of our official state symbols — irises, a mockingbird and a catfish among them, plus a cut-out of our state wild animal, the raccoon. 
"Kids ain't in school," says Mrozik, a mom of two herself. "But they can learn something from this little coloring book."
One Drop Ink has not received a loan from the Small Business Administration, nor has Mrozik received unemployment assistance as an independent contractor. She hopes to reopen the shop at some point in June, pending the city's phased reopening plan, and she'll of course do so with new procedures and restrictions in place. Mrozik says springtime is the shop's busiest season, and she has continued to receive inquiries throughout the pandemic. She's grateful for the THRIVE award, but frustrated that it's difficult for artists to get financial assistance through other channels. Mayor John Cooper's recently proposed budget cuts discretionary spending — including Metro Arts' granting program — by 50 percent. 
"The creative people are the last people to have any safety net," says Mrozik. "I will continue to say that art is skilled labor, and it should be paid just like an electrician or a plumber or anything else that is a skilled labor." 
Meanwhile, artists are continuing to engage Nashvillians through their practices, and Reitmeyer sees an opportunity for increased participation in the arts.  
"I think people are re-examining their lives and how they find meaning, and they don't want to just live practically," Reitmeyer says. "That's the hope."
Find the full list of THRIVE projects at metroartsnashville.com.