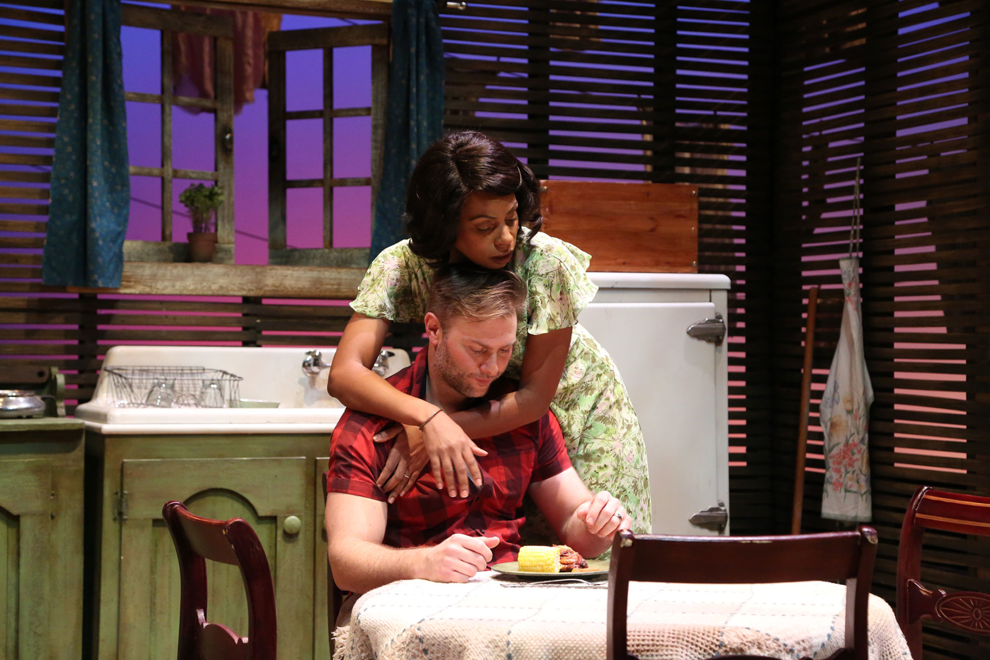 Great art not only has the ability to challenge what we think we know about the world — perhaps more importantly, it can challenge what we think we know about ourselves.
The first time I read Tennessee Williams' masterpiece A Streetcar Named Desire (in high school, I think), I fell in love with the language, but I struggled to connect with any of the iconic characters. But over the years, I've found greater understanding and compassion for these lost souls. Not that I'm excusing their behavior, mind you — it's just that I empathize with the trauma they've sustained, and the complicated choices they're forced to make.
Taking on tough issues of society, class, domestic violence and more, Streetcar still has a lot to say, even 70-plus years after its Broadway premiere. The challenge for director Nat McIntyre in his current staging of the play, as he acknowledges in his program notes, is to bring all of these complex elements to life in a way that feels relevant. He certainly succeeds in that regard, thanks in large part to the strong performances of his lead actors.
Karen Sternberg absolutely disappears into the role of Blanche DuBois, the aging Southern belle who seeks refuge with her sister Stella and brutish brother-in-law Stanley in a modest New Orleans apartment. Sternberg savors every bit of Williams' gorgeous, lyrical language, delivering her lines with the sort of world-weary wit that only true survivors seem to possess. Summing up Stanley's Polish heritage, she quips: "They're something like Irish, aren't they? Only not so … highbrow?"
Sternberg's interpretation is perhaps more vibrant and self-aware than you might expect, but that makes Blanche's eventual breakdown all the more tragic. It's a dazzling performance from start to finish, but Sternberg's exacting precision of Blanche's mannerisms — whether she's compulsively smoothing her hair or desperately trying to shut out the voices in her head — is the hardest to shake.
As Stanley, Eric D. Pasto-Crosby walks a fine line between vicious bully and petulant man-child. For all of Stanley's bravado, he clearly feels threatened by Blanche, and it's fascinating to watch Pasto-Crosby size up "the competition" while revealing his character's many insecurities. He totally nails the more visceral bits of violence toward Stella. (Huge props to fight choreographer Carrie Brewer; Pasto-Crosby's own considerable experience as a fight director also makes a big difference.) Considering the shocking intensity of these conflicts (and the resulting sexual fireworks), Act 2's pivotal rape scene felt somewhat staid at Saturday's opening performance — though still horrifying.
Tamiko Robinson Steele also is excellent as the conflicted Stella, another survivor of sorts. While her sister retreats into faded memories and pure fantasy, Stella is determined to make her own way. The always-dependable Steele approaches the role with warmth and careful restraint, carrying the burden of her character's choices behind sad eyes. She and Sternberg share a believable sisterly connection — their initial reunion is especially joyous and full of hope — all of which adds to the devastation of the play's final moments.
Likewise, James Crawford turns in an outstanding performance as Mitch, Stanley's old war buddy and Blanche's would-be suitor. It's a role that's often overlooked, but Crawford leans heavily into Mitch's quiet misery and loneliness. His performance is so beautifully nuanced, and his silent anguish in that final scene is palpable.
Matt Logan's costumes perfectly capture the essence of each character. In the case of Blanche in particular, they tell a story all their own — with soft colors and gauzy frills reminding us of her former glory days. And while Gary C. Hoff's scenic design certainly embodies the humble, mid-20th-century world of the Kowalskis, it doesn't necessarily scream New Orleans. Nor does it reflect the drama's cramped, hothouse energy. On the other hand, Phillip Franck's moody lighting and Kyle Odum's eerie sound design serve to magnify the simmering drama — particularly in Act 2.
No matter how many times you've seen or read Streetcar, this production delivers a richly textured and harrowing journey.