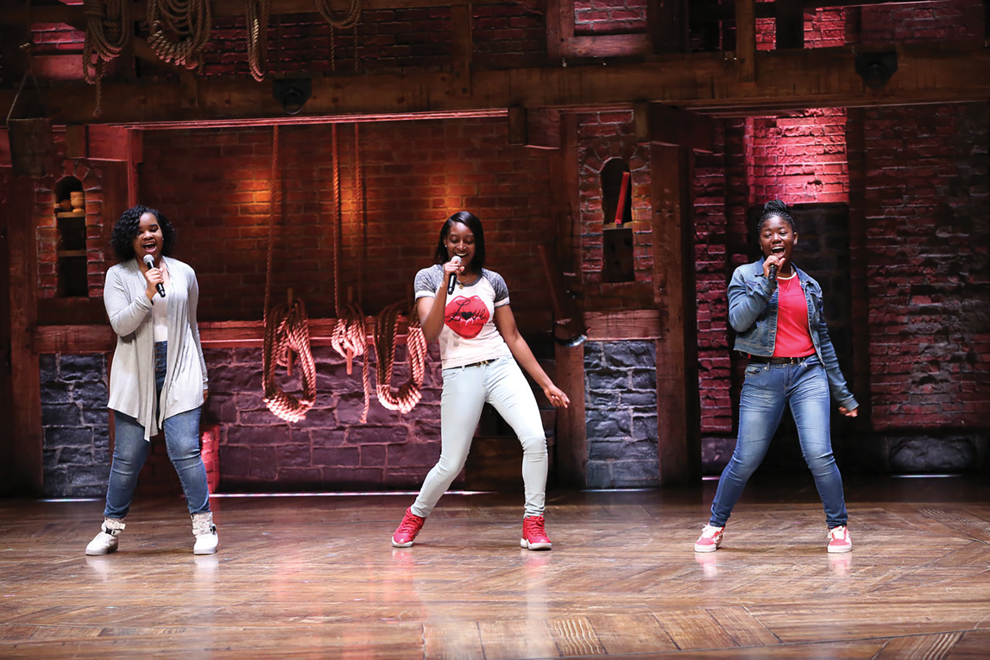 Hamilton is the hottest ticket in town. But as theater lovers throughout the region snatch up tickets to Lin-Manuel Miranda's blockbuster hit — which arrives at the Tennessee Performing Arts Center Dec. 31 — some local students are busy creating their own stories.
East Nashville Magnet High School is just one of the schools taking part in the Hamilton Education Program, better known as EduHam. Originally introduced in 2015 with funding from The Rockefeller Foundation, this unique educational initiative was established by Hamilton's creators and producers along with the Gilder Lehrman Institute of American History. EduHam enables tens of thousands of high school students in Title I schools across the country to take part in an interactive curriculum about the nation's founding before attending a performance of the Tony Award-winning musical.
On Jan. 16, TPAC will host students from 39 schools located in underserved communities around the region, including in Tennessee, Alabama, Kentucky, Louisiana, Mississippi, Ohio and Texas. In addition to seeing a performance of Hamilton, these students will participate in a Q&A with cast members. A select number of students will even be invited to share an original performance piece, based on their own classwork and research, on the TPAC stage.   
"It's a great opportunity for our students," says Glenn Phillips, a social studies teacher at East Nashville Magnet High School who's also serving as an EduHam liaison. "But it's much more than just seeing the show. The program really serves to engage students, helping them to connect with history in a way that speaks to their own experiences."
The EduHam curriculum includes a dedicated website where students can access interviews with Miranda and Ron Chernow (whose 2004 biography Alexander Hamilton inspired the musical), along with video clips from the show and key historical documents and resources. A detailed study guide helps students analyze and interpret primary sources, while recognizing that, as Miranda has often said, "The person telling the story shapes the story." 
With that in mind, each student is required to create an original two-minute performance piece based on their research of an important person, document or event from the founding era. The format is flexible — students can choose to create a song, poem, monologue or other dramatic presentation — but all projects will be graded on strength of research, historical integrity, originality and artistic expression.
"I'm extremely excited for our students' opportunity to experience Hamilton in depth," says Margaret Szklany-Brown, who also teaches at East Nashville Magnet. "We'll be spending over a week in early January preparing our own lyrical stylings based on primary sources such as documents from the time of the American Revolution, or about research on prominent individuals of the time. Essentially, we'll follow a truncated version of Lin-Manuel Miranda's method for creating the brilliantly sharp and moving lyrics that have made Hamilton so popular."
While the assignment is certainly challenging, Phillips says students are able to identify with the musical's universal themes. "The idea of getting up in front of the class and presenting an original vignette is deeply scary for a lot of these kids," he says. "But once they get into the material, they start to make the connections. They start to recognize themselves in some of the stories and situations, and that's so valuable."
Phillips, who first saw Hamilton in Chicago three years ago, says the musical's contemporary tone and diverse cast are also significant.
"I think the students will be genuinely surprised by the diversity of the cast," he says. "They've seen the clips, and they understand it all on an intellectual level. But it's different to see it live onstage. About 95 percent of our students are African American, so for them to see actors of color taking on these roles, and to realize that the color of their skin has zero impact on the story or how the audience sees them — that's pretty powerful.
"Yes, Hamilton tells a story about American history," Phillips continues. "But it's also a story about immigration and social mobility. It's the story of a guy who wasn't born on top, but still manages to succeed by virtue of what he brings to the table. It's the story of an outsider who does well because he is capable and determined, and I think that's a message all of our students need to hear."