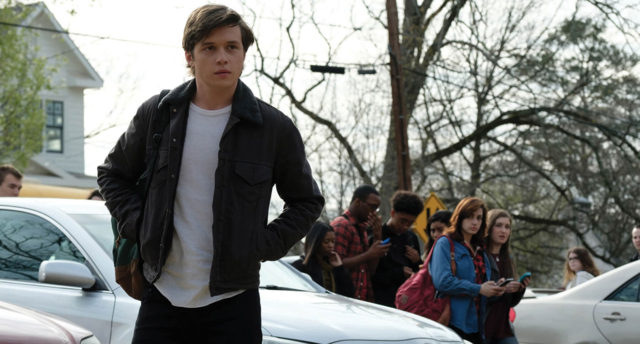 Love, Simon's Simon Spier (Nick Robinson) is a good approximation of a closeted kid — gay, not particularly ashamed of it, but aware of the complexity that springs up around the topic even among those with the kindest of intentions. He's surrounded by good people who offer care and support, and he's conscientious for the most part. But there's a part of him that actively seeks out the ability to recede into the periphery. No fan of rocking the boat, whether for his liberal parents or for his friends, he's looking to exhibit consistency. He just wants everything to proceed smoothly, until he gets to college and can be completely open, here envisioned in a song-and-dance number that uses a Whitney Houston tune to poke fun at what gay means in popular culture. Of course, using a Whitney song also demonstrates the way that the closet, even when comfortable, kills part of your soul. (For that reason alone, the 2017 documentary Whitney: Can I Be Me? is an essential complement to this film.)
Simon would ideally like his own version of one of those enduring teen classics, like Sixteen Candles (minus the racism and date rape) or Clueless. An adventure through the social Play-Doh Fun Factory that is high school, with parties and dance sequences (and Violent Femmes karaoke, in what surely must be an acknowledgment of the timelessness of early-'80s angst) and the occasional misunderstanding or two, but one where he gets the guy in the end.
There are people in America who are terrified of such a premise. They called to complain about the trailer for this film when it debuted ahead of The Greatest Showman at Christmas — as if musical theater and the whole production number of "The Other Side" were in danger of losing their heterosexual credentials because of a Love, Simon trailer. For decades and decades, gay affection has been played for shock, or for laughs. Well, here's a film that says, "Hey, this is meaningful." And that's awesome. 
In streamlining Becky Albertalli's novel Simon vs. the Homo Sapiens Agenda (which is delightful and can be read in about the time it takes to fly from Nashville to L.A.), the filmmakers — including director Greg Berlanti, who is the reason DC Comics' TV universe is continually and repeatedly kicking the ass of its cinematic sibling — have made things a bit more concise. Simon isn't as flawed a person, the mystery of who anonymous potential boyfriend Blue is isn't quite as expansive, we've lost one of the Spier sisters, and things on the whole aren't as intersectional as the book's journey. But on the whole, Love, Simon is deeply satisfying, whether you're looking for a peppy teen flick or for queer representation. Or a kickass drama teacher, like Ms. Albright (comedian and SNL writer Natasha Rothwell, who almost steals the whole movie while trying to direct a high school production of Cabaret).
The younger folk at the advance screening I attended cheered for some of the developments in the last reel, and while the adults were a bit more subdued in their response, it was because it's difficult to cheer through hopeful tears. The last time I saw an emotional journey like this bring commonality across all ages was when Carly Rae Jepsen played at the Cannery Ballroom — and like then, we all filed out into the night wishing only love and joy to all others.
Someday, Love, Simon might be seen as quaint or corny. When films about and marketed toward every portion of the LGBT rainbow have moved past novelty and into the realm of standard trope for comedies, dramas and romances, it's quite possible that this good-hearted teen movie might be seen as old-fashioned. There's nothing wrong with that. But for now, Love, Simon is a cinematic unicorn — a sweet and sometimes silly coming-of-age story that allows the spine-shaking roller coaster that is high school affection to shake up the lives of gay kids as well. And maybe this film's success will help make discussions about the issues it depicts a little easier for families in the future.