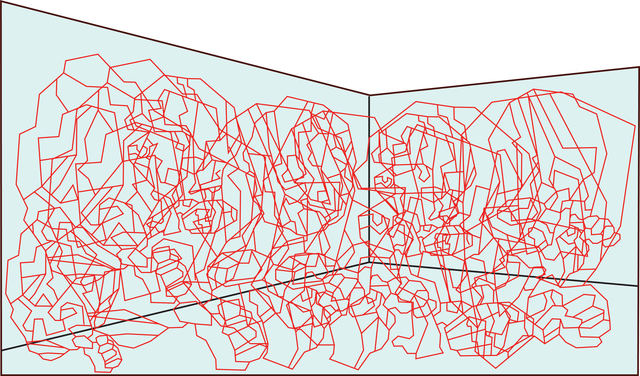 Painter Dana Oldfather's latest show at The Red Arrow Gallery presents the female body as a locus of action as opposed to an object of decoration. Beast finds the Cleveland, Ohio-based painter embracing an almost surrealist perspective to examine the spaces between figuration and abstraction, natural and mechanical, analog and digital. Oldfather populates psychedelic landscapes with deconstructed collections of legs, breasts and hips — the results are simultaneously funny, anxious and provocative.
Dustin Hedrick's Channel to Channel gallery is a Wedgewood-Houston staple because of the space's consistently strong programming. Hedrick gets credit for his choice curating, and also for being one of the best artists on the gallery's roster. Hedrick's 2018 mural display Cobwebs & Catacombs featured portraits rendered in black masking tape, and was a highlight of that summer's art calendar. His February 2020 exhibition offers a portrait of a different kind: Cutting Edge is another of Hedrick's signature masking tape installations, but this wall-covering work is a more abstract endeavor inspired by ultrasound images of Hedrick's unborn son.
Karen Seapker's Circuities opens at Zeitgeist Gallery on March 7, and runs through April 25. This display of new paintings finds Seapker continuing her narrative investigations into motherhood and domesticity. Her wild palettes are still stacked with bold, broad colors, but it's the tension between abstraction and figuration that's always been at the center of the painter's practice. I'm encouraged by recent Instagram images that seem to show Seapker leaning into abstraction, resulting in works that look more mysterious, compelling and moving than recent efforts. This show makes our list because Seapker is one of the best artists at one of Nashville's best galleries, but also because Seapker seems poised for a breakthrough after several displays that have felt like journeys toward a destination. The fact that this artist appears in two shows in this preview (she also appears in Nerve, highlighted here) only underlines Seapker as one of the local artists to watch this winter season.