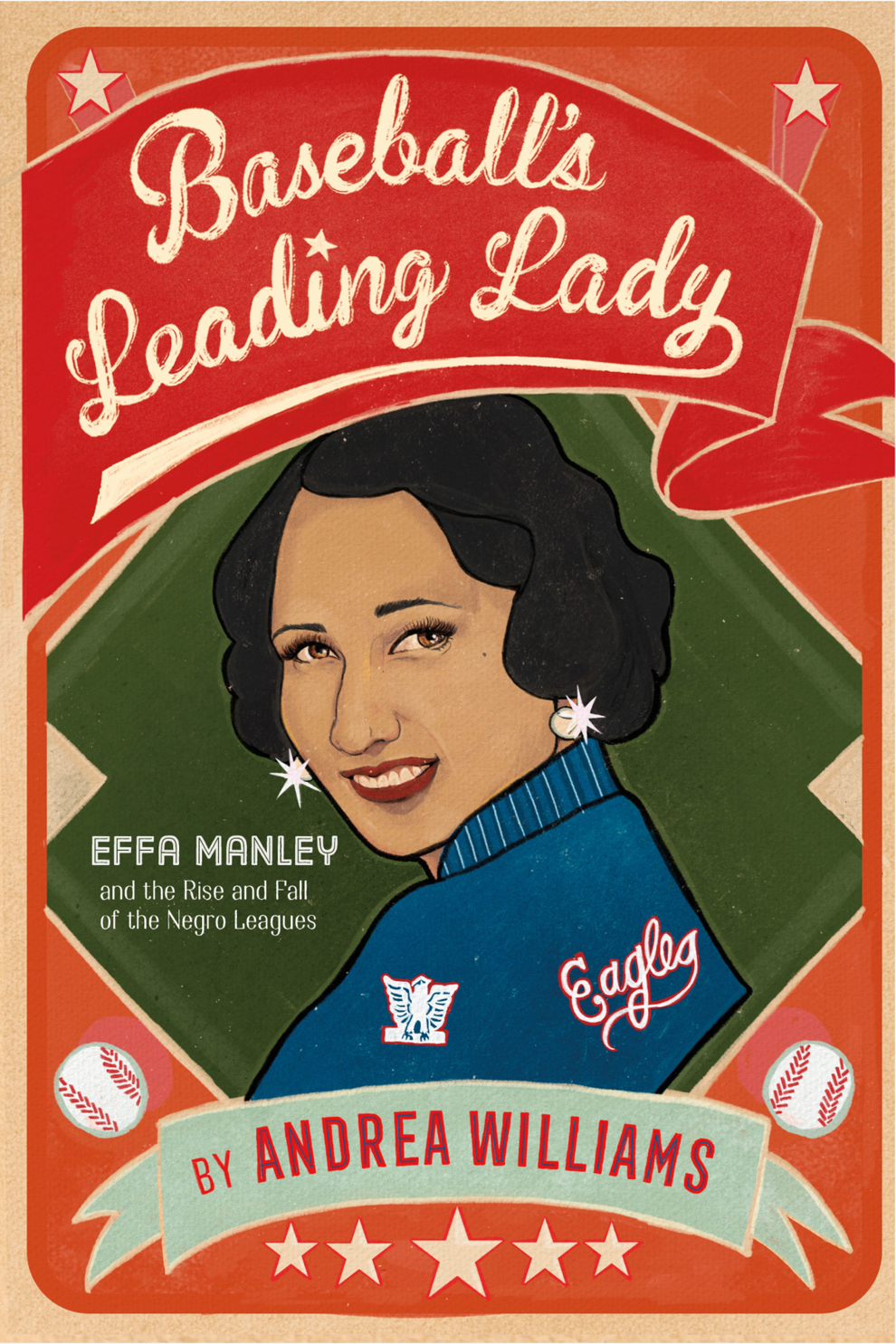 Some 3,400 Black athletes played in the Negro Leagues from 1920 to 1948, but it took 100 years for Major League Baseball to recognize them as major-league-caliber players and to enter their achievements in the historical record. Author Andrea Williams loves the sport, but early on, she found herself even more curious about the business that makes it work. Her curiosity led her to discover a little-known Black American woman named Effa Manley, the co-owner and business manager of the Negro Leagues' Newark Eagles. Williams' new nonfiction middle-grades book, Baseball's Leading Lady: Effa Manley and the Rise and Fall of the Negro Leagues, shows Manley as a pioneer who understood the value of the leagues, while others insisted it was inferior. 
Writes Williams in her introduction, Manly "saw the Negro Leagues as a vehicle to transport the Black community to a position of equality in American society, to provide jobs and financial stability where they were sorely lacking, and to give Black boys and girls regular opportunities to witness victory when so much of their lives was mired in defeat." 
Williams, who is a Scene contributor, views the sport's history through the lens of equity, documenting the contributions of Black players and team owners in order to correct the historical record. The Scene spoke with Williams about her book, which is available now from Roaring Brook Press. 
So why baseball, and why Effa?
The goal was always to be the first female general manager of a Major League Baseball team. I'd grown up loving baseball. My first real job was at Kauffman Stadium where the Royals play. … I was a server, I took snacks and drinks out to the people while they were watching the game. ... It was just the most amazing experience. ... I loved baseball. I played softball, but I knew that I was more interested in kind of the off-the-field operations. It was the business for me. Like, how do you run a team? And what does that signage mean out in the outfield? Are people really making money from that? How does stadium financing work? All of that stuff is where my mind was going.
So I studied sports management at Georgia Southern [University]. … The shift came when I was graduating and wanted to be back home. I got hired at the Negro Leagues Baseball Museum. Bob Kendrick, who is the president now and was the marketing director at the time, had just created a new position for a marketing assistant, and I was freaking all over it. On my first day, Bob gave me a tour of the museum. I just remember seeing Effa's picture on the wall, her and her husband, Abe. I was like, "Yo, who is that?" ... I was always looking to see who are the women who are in this space that I can look to, model a career after. Or maybe meet them, and get some tips, and let them mentor me whether from afar or up close. ... When I saw Effa's picture and started asking questions, and then doing my own research, I began to understand that what she actually did — as a Black woman in the '30s and '40s — is incredible. I was drawn to her. Bob let me throw together a couple of little events to honor her. … [I was thinking], how do we call attention to the women who were trying to create a space in baseball and pro baseball? How do we lift up the next generation of which, I was at that time, a part? How do we make it easier so that we get 20 more Effas? 
Finally, in 2019 it was like: "All right, I need to do this. I'm going to do it for kids because I wish that I had had her story when I was younger." With having four kids, my oldest child reads voraciously and hates nonfiction. I'm like, "We got to fix that." There should be more nonfiction that is compelling, that is entertaining, but that's also educational — that will help kids see the world in a way that they can't from school curriculum. … I don't see myself going into the business of textbook writing, but if I can write these books that will be a supplement for history teachers to give their kids to read while they're working on a unit on the Great Migration, or the Harlem Renaissance, or the integration of baseball or whatever. That is why there's lots of weaving in and out with Effa's story.
Effa's early activism, leading a boycott of a department store, seems to have laid the foundation for her work in the leagues.
In reading about Effa, I just loved that she was so willing to stand up for what she believed in. … I think she was completely fearless in that regard. She saw an issue. She saw that in Harlem, which was this Black enclave, this kind of promised land for Black people who were traveling up north from the American South, but also from islands in the Caribbean, trying to find that space where they can have community and also hope for a better future. But here we are in the midst of that, and you've got these white-owned businesses that are happy to take money from the Black community, are happy to have them as customers, but again, are setting up these walls and not hiring them in these roles that would best enable them to provide for their families. 
She ended up helping to launch this boycott that was ultimately successful, even though it didn't turn out fully the way she wanted it to. But it certainly did lead to measurable change. To me, the part that I love the most is her interaction, when they're kind of sitting there in the midst of the negotiations. They're talking to the owner and she's essentially like: "Look, if you don't hire these girls, what are they going to do? Become prostitutes? Is that what you want?" Again, if you think about the context, in the 1930s, a woman even being in the meeting is already a lot. But to be so outspoken and to say something that forcefully is a big freaking deal, and it catches everybody off guard. But what happens when they're caught off guard? It's like, "OK, well, we probably should listen to this — maybe we need to take this seriously." I love that about her. I think it's hard to change history when you're always willing to play by the rules, and Effa wasn't really into playing by the rules.
A theme in the book is how Black Americans created their own spaces outside the white power structure, where they could find wealth and find joy and even start to create some generational wealth. But then one of the ironies of integration is that it upended some of these institutions.
Branch Rickey and other white executives in Major League Baseball made it super clear that they didn't consider the Negro Leagues of a professional stature. … Branch Rickey, when he signed Jackie Robinson, he doesn't pay the Monarchs for his contract. He didn't pay for Don Newcombe's contract. Roy Campanella, he didn't pay for his contract. … We also have to talk about the Black community and the Black sportswriters, like Wendell Smith, who saw this happening. This is where there's always context, and context, and then more context, and we peel these layers of these onions of being Black in America. 
When you are enslaved for as long as Black people were enslaved, and you understand that that is your lot in life by virtue of your skin, the opposite of that becomes the thing to which you strive, right? This white entity, this white organization that becomes the thing for which you hope for and strive for, without even fully seeing the value of what you're doing. This is not the fault of any of these people. It is how they were trained to think and to behave. … There was never a question that we would do integration the way we did, that we would take Black players and then insert them into white baseball, which was positioned not just by the white people, but also by the Black people, as the ultimate best representation of baseball in this country. That was always the plan. … By the time you realize that you're only being tolerated, you're not really being appreciated, it's too late. Because you've already abandoned that space that did appreciate you. And it's too late to go back now and rebuild it. 
I keep saying, "It's not just for kids," and that is true. But it is also very much for kids. If they get nothing else from this book, I want them to start to think about integration or desegregation in this country with a more critical lens than we are taught to in school. … What I'm saying is, now we have the benefit of hindsight and can afford to analyze this and say, "Was this the right move?" It's 2020 and we are saying: "Well, how come there aren't very many Black players? And how come there are even fewer Black executives? And how come there are no Black owners of professional baseball teams?" We need to go back and look at that. Why do we need to go back and look at that? Because we will still continue to encounter these situations. If we don't know the mistakes of the past, we will make them again.
---
Virtual Literary Events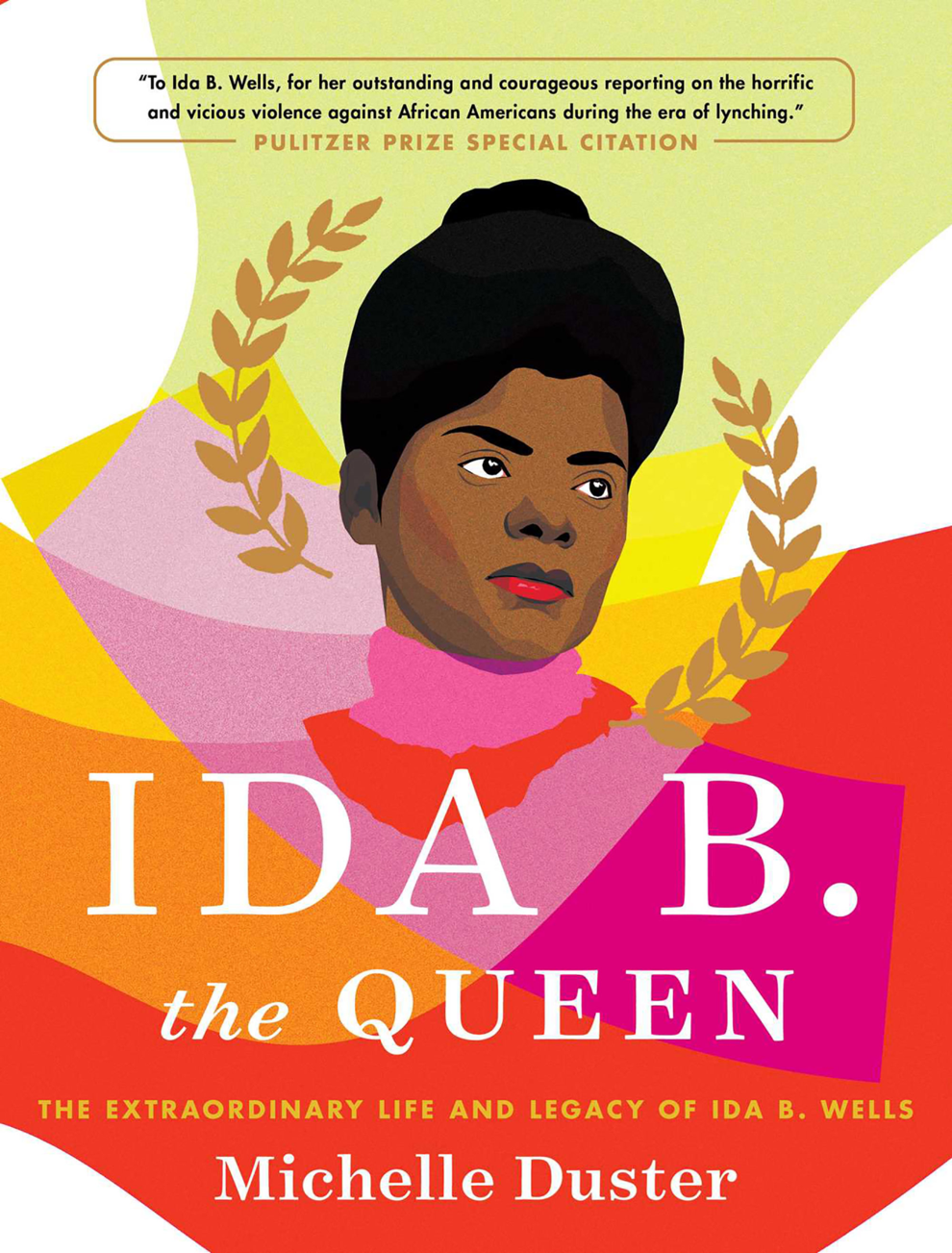 Lee Conell, author of The Party Upstairs, in conversation with Nancy Reisman via The Porch Writers' Collective, Vanderbilt University Creative Writing Program and the Nashville Jewish Book Series 8 p.m. Thursday, Jan. 14
Robert Gordon, author of It Came From Memphis, in conversation with Ann Powers via Parnassus Books 6 p.m. Thursday, Jan. 21
Marcus Whitney, author of Create and Orchestrate: The Path to Claiming Your Creative Power From an Unlikely Entrepreneur, in conversation with Annie Klaver via the Nashville Jewish Book Series 7 p.m. Thursday, Jan. 21
Parnassus Book Club Featuring Ruta Sepetys' Fountains of Silence 6:30 p.m. Monday, Jan. 25, and Tuesday, Jan. 26 
Ariel Lawhon, author of Code Name Hélène, in conversation with Helen Ellis via Parnassus Books 6 p.m. Tuesday, Feb. 2 
Michael Eric Dyson, author of Long Time Coming: Reckoning With Race in America, in conversation with Andrea Blackman via Parnassus Books 6 p.m. Wednesday, Feb. 3 
Cameron Douglas, author of Long Way Home, in conversation with Dan Peres, author of As Needed for Pain: A Memoir of Addiction via the Nashville Jewish Book Series 7 p.m. Thursday, Feb. 4
Michelle Duster, author of Ida B. the Queen: The Extraordinary Life and Legacy of Ida B. Wells via Parnassus Books 6 p.m. Thursday, Feb. 4 
Heartbreak Happy Hour via The Porch Writers' Collective 7 p.m. Sunday, Feb. 14       
Birthing the Book with Simon Han, author of Nights When Nothing Happened via The Porch Writers' Collective 5:30 p.m. Monday, Feb. 15
Richard Ford Thompson, author of Dress Codes: How the Laws of Fashion Made History via Parnassus Books 6 p.m. Tuesday, Feb. 16
Sue Eisenfeld, author of Wandering Dixie: Dispatches from the Lost Jewish South, in conversation with Scene contributor Margaret Littman via the Nashville Jewish Book Series 7 p.m. Thursday, Feb. 18
Chang-rae Lee, author of My Year Abroad, in conversation with Ann Patchett via Parnassus Books 6 p.m. Friday, Feb. 19