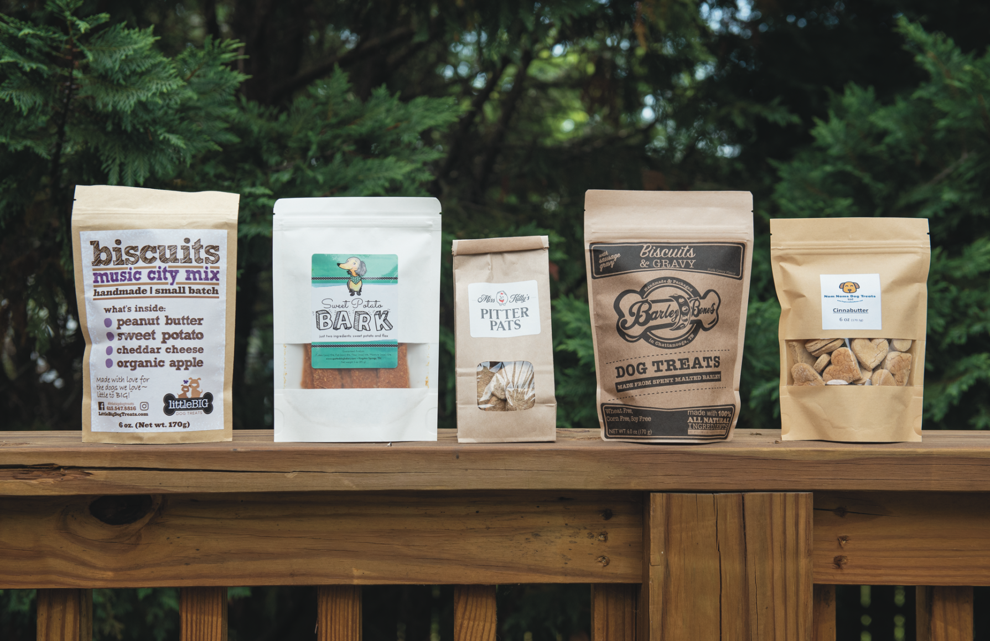 It wasn't until I was tasked with hosting a dog-treat taste test that I realized just how great my friends are. That's because when I rolled up to the puppy party with five bags of locally made dog treats — all boasting all-natural and human-grade ingredients — not a single person flinched when I jokingly said, "Y'all are gonna try them too, right?"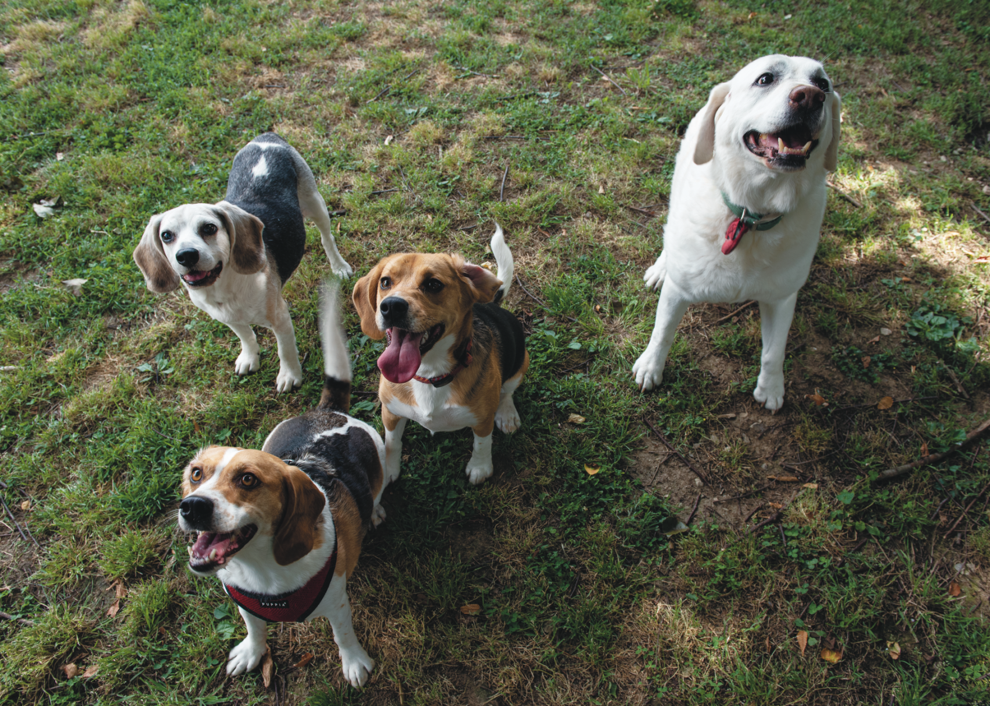 Of course, what the dogs think is the most important part. So our tasting panel was also composed of four pups — Johnny Waffles, Otter, Rudder and Turtle. Sure, they might crunch some sun-baked poop from time to time, but these dogs do have discerning palates. One-year-old Rudder is known to spit out treats and carefully examine them before digging in, and 6-year-old Johnny Waffles still holds a grudge over some romaine lettuce I tried to feed him a few weeks ago. It was crunchy! I thought he'd like it! He did not.
Here's what happened when four pups and five humans spent a sunny afternoon eating dog snacks.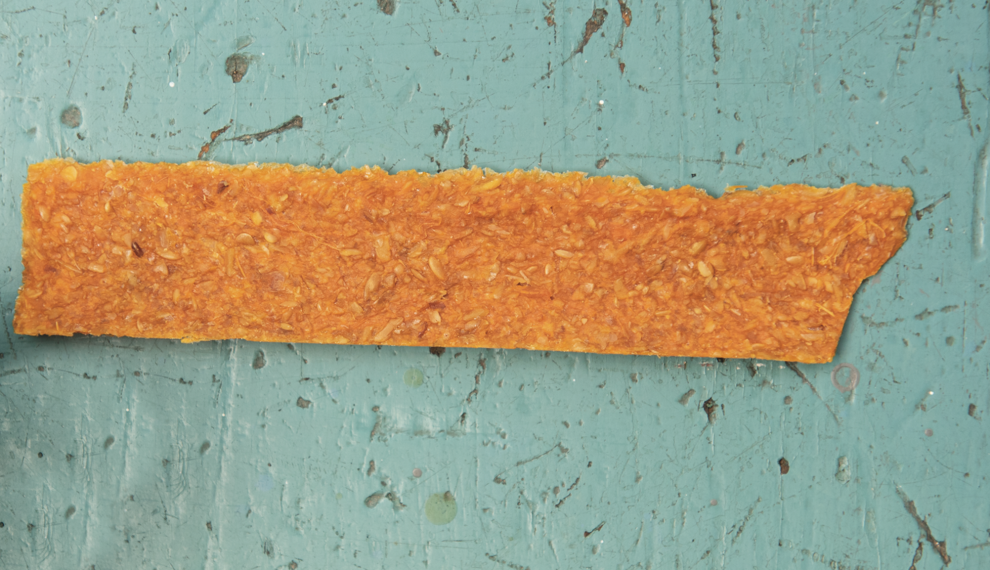 Spotted Dog Bakery
Sweet Potato BARK, 3 ounces, $8.99
At Spotted Dog Bakery in Kingston Springs, Tenn., you can get layered cakes and hand-decorated cookies that are as pretty as anything you'd find at a bakery for humans. (For $65 they'll hand-paint a cake to look just like your pet!) But they also offer treats better suited for everyday indulgences. Their Sweet Potato BARK is made with just two ingredients — roasted sweet potato and flax meal — and it's the dog treat that our humans unanimously declared the one they'd most happily eat if left with only dog snacks during quarantine.
Dogs: All four dogs appeared to really like the Sweet Potato BARK, but it disappeared quickly. The bark is thin and delicate, so at least two of the pups just swallowed their pieces whole without any savoring or crunching whatsoever. Did they eat it so quickly because it was delicious and they couldn't wait to get more, or because it was something edible put near their mouths? We'll never know.
Humans: "It tastes like sweet potato! I've had gas-station beef jerky that's less edible." 
"Not bad at all! It's like a Triscuit."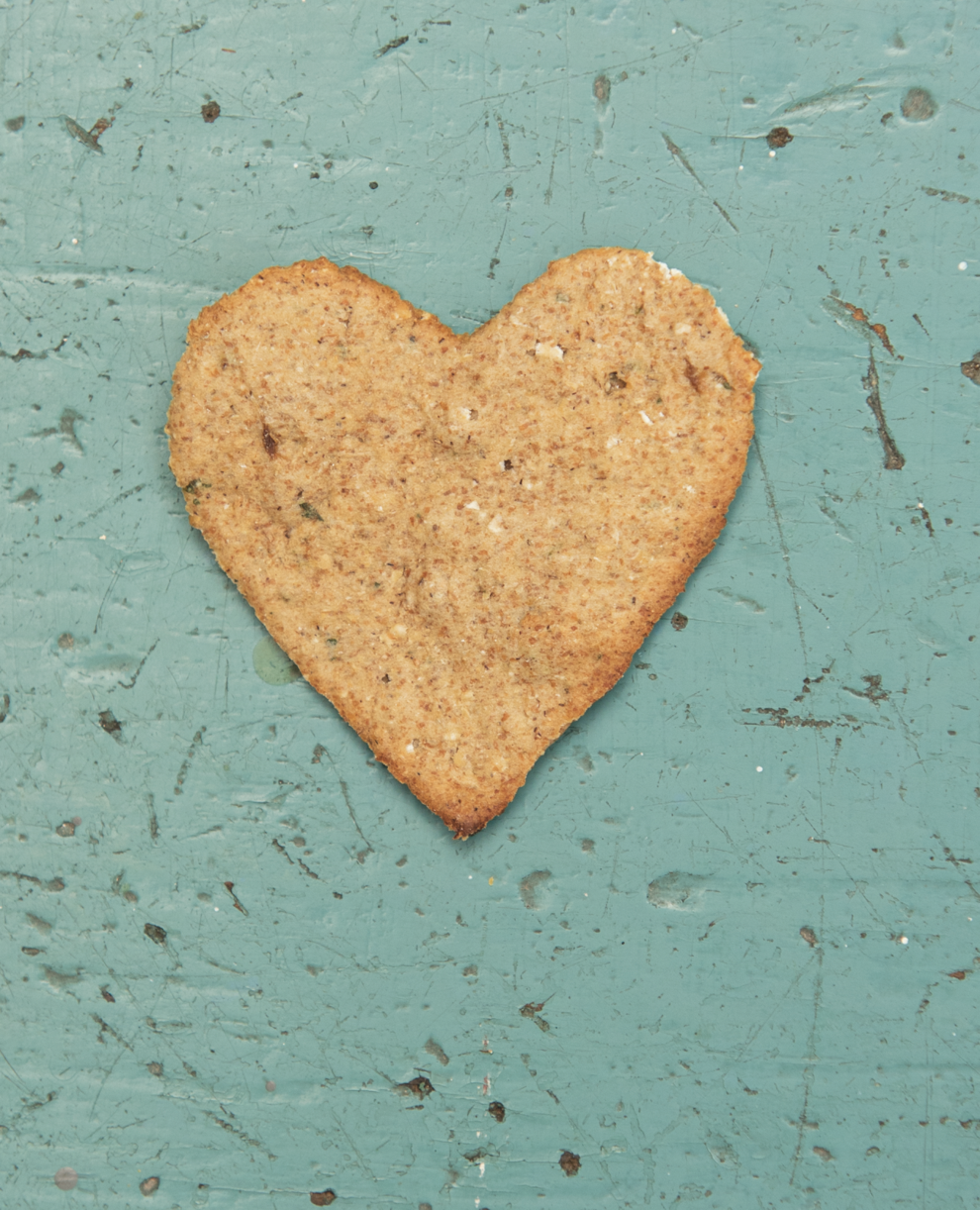 Miss Kitty's
Pitter Pats, bag of 24, $10
Miss Kitty's Dog Resort has been around since 1991, and it's a local favorite. (They were voted Best Pet Grooming by our readers in the Scene's 2018 and 2019 Best of Nashville issues, and runner-up for Best Pet Boarding in 2019.) Their made-in-house Pitter Pats have a little bit of everything dogs love: chicken liver, chicken broth, apple sauce, eggs and parsley all mixed into a base of rye flour and whole oats. 
Dogs: Rudder, the youngest of the bunch, appeared to be thrown off by the thin, wafer-like texture. He initially spit it to the ground. But after a few more sniffs and licks, he gleefully gobbled it up just before Johnny Waffles ran over in an attempt to steal it. Rudder's brother, old man Turtle (he's almost 15!), liked his Pitter Pat so much he mustered the strength to jump up my leg and demand another.
Humans: "It tastes like a communion wafer."
"That's exactly what I was gonna say! It tastes like an Episcopalian communion wafer."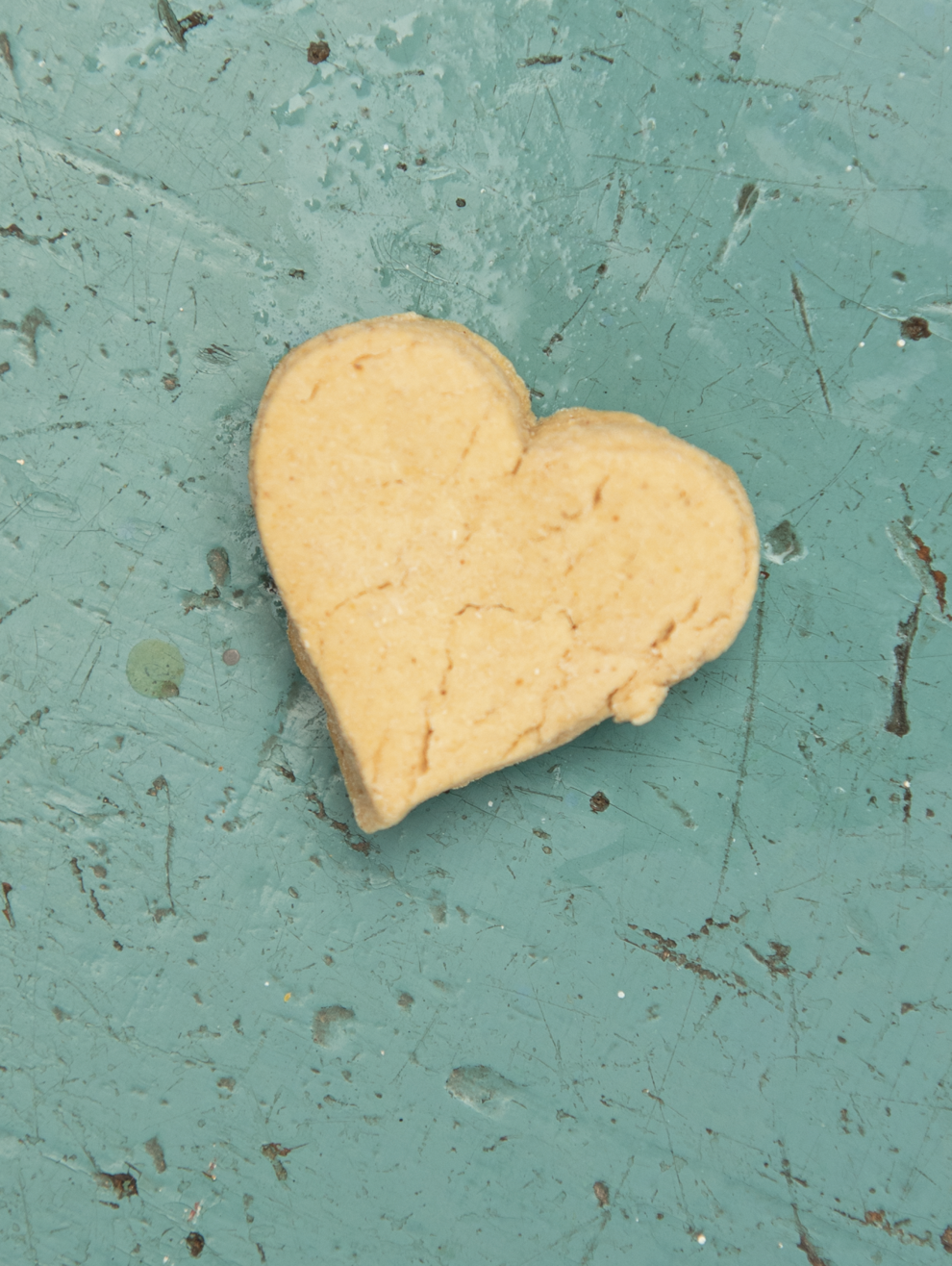 Nom Noms Dog Treats
Cinnabutter, 6 ounces, $8.99
All Nom Noms Dog Treats are vegan-friendly and gluten-free, and there are flavors like Naturally Nutty, Cinnabutter and Peanut Butter Banana. When ordering, you can choose the size of your biscuit, from small training-treat-sized chunks to larger hearts and squares. (Some dogs love a big crunchy biscuit, after all.) A portion of the proceeds goes to local spay and neuter programs, too.
Dogs: All four dogs appeared to love how the (medium-size, heart-shaped) Nom Noms Cinnabutter treats crunched and crumbled in their mouths. It was like a dog-food-confetti cannon went off as they chomped on the treats and all playfully fought over and hunted for the crumbs that fell into the grass.
Humans: The texture was less of a hit with the humans. "It's chalky and dusty! There's no flavor at all! I would not eat this."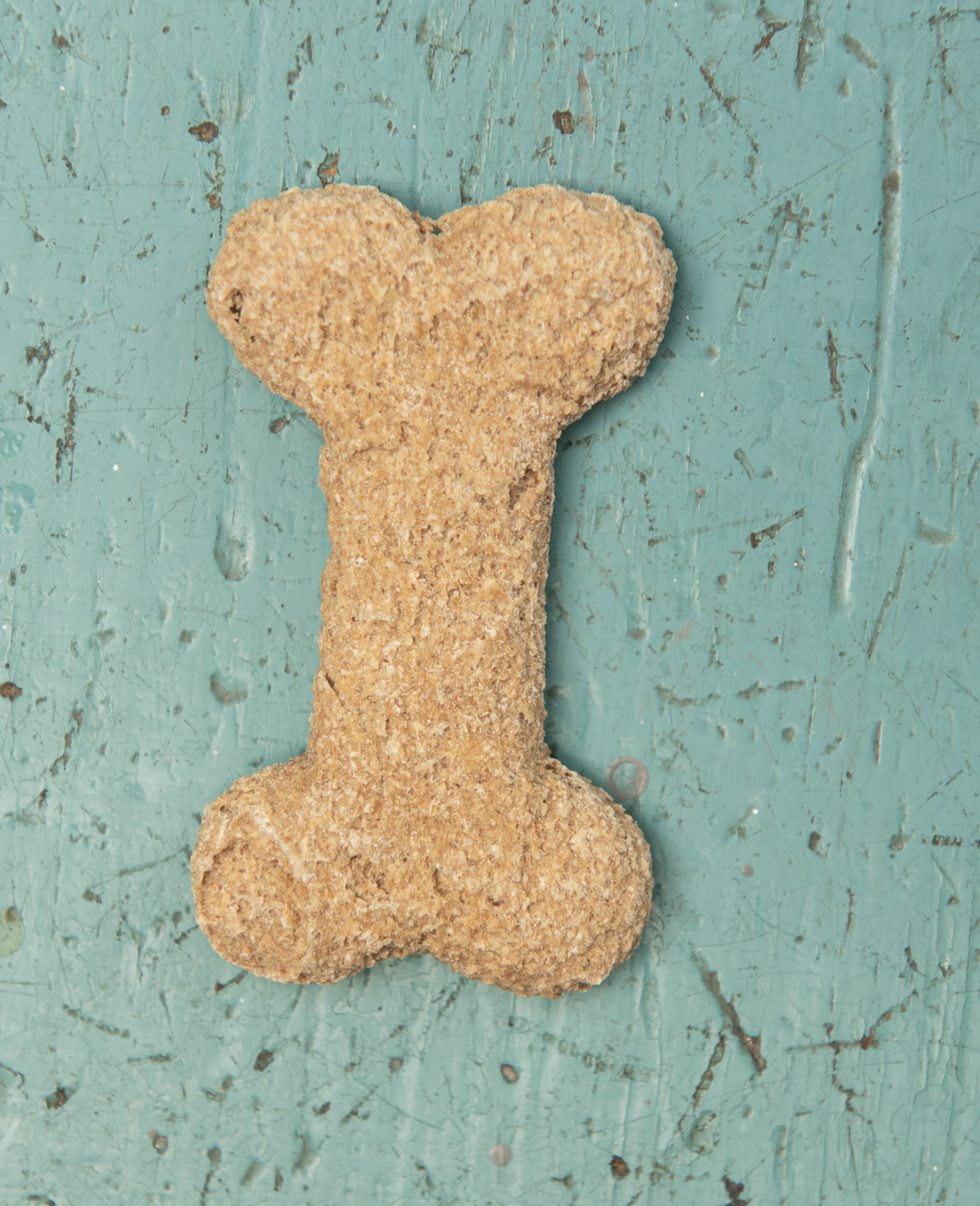 Barley Bones
Biscuits & Gravy, 6 ounces, $8.99
Chattanooga's Barley Bones are made with a base of spent malt barley, and the company uses locally sourced ingredients when possible. Their Chicken & Waffles flavor has Tennessee sorghum! Their CBD products feature oil from a farm in Cave City, Ky.! For the taste test, I tried the Biscuits & Gravy treats, which are fattened up with pure lard.
Dogs: It's hard to say for sure which treat was the dogs' favorite, as they were delighted to eat any and all of the snacks. But all humans present agreed the pup panel lit up a little brighter when they got a hold of these biscuits. The bone-shaped treats were the largest in the bunch, so they made for a crunchy mouthful of chicken-liver-flavored goodness (even for the largest dog of the bunch, 75-pound Otter).
Humans: "This is what I'd imagine a standard dog biscuit tastes like."
"It tastes like evil … or feet."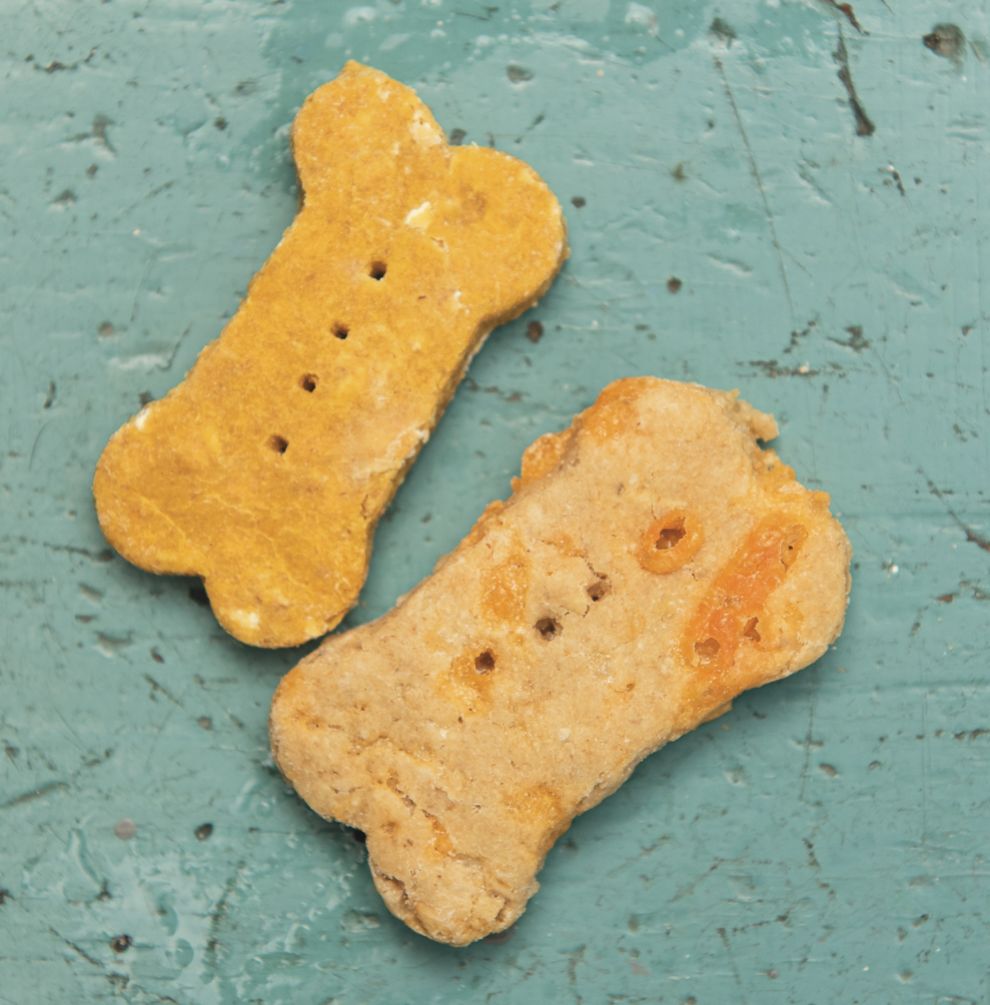 Little Big Dog Treats
Music City Mix, 6 ounces, $8.99
The bag of Little Big Dog Treats, made in Lebanon, Tenn., was the only one that didn't make me gag slightly when I opened it. It smelled like cheese, cinnamon and apples — not dehydrated liver and feet! And if you care about such things, all the flavors in the Music City Mix are vegetarian-friendly. The apple treats contain apples, molasses and cinnamon; the cheese biscuits have Parmesan and cheddar cheese, egg and rosemary, and you can actually see the hunks of cheese baked in.
Dogs: At this point it was pretty clear these dogs were going to happily eat anything we put in front of their faces, but as with the Barley Bones, I think all four pups especially enjoyed the size and texture of these biscuits. They were crunchy but not rock-hard or dense, and they were big but not overwhelmingly so.
Humans: "This one tastes like apple!"
"I like the aftertaste of the cheese one. It's like a cheese straw, kind of."
"Do you want another one?"
"Would you judge me if I did?"