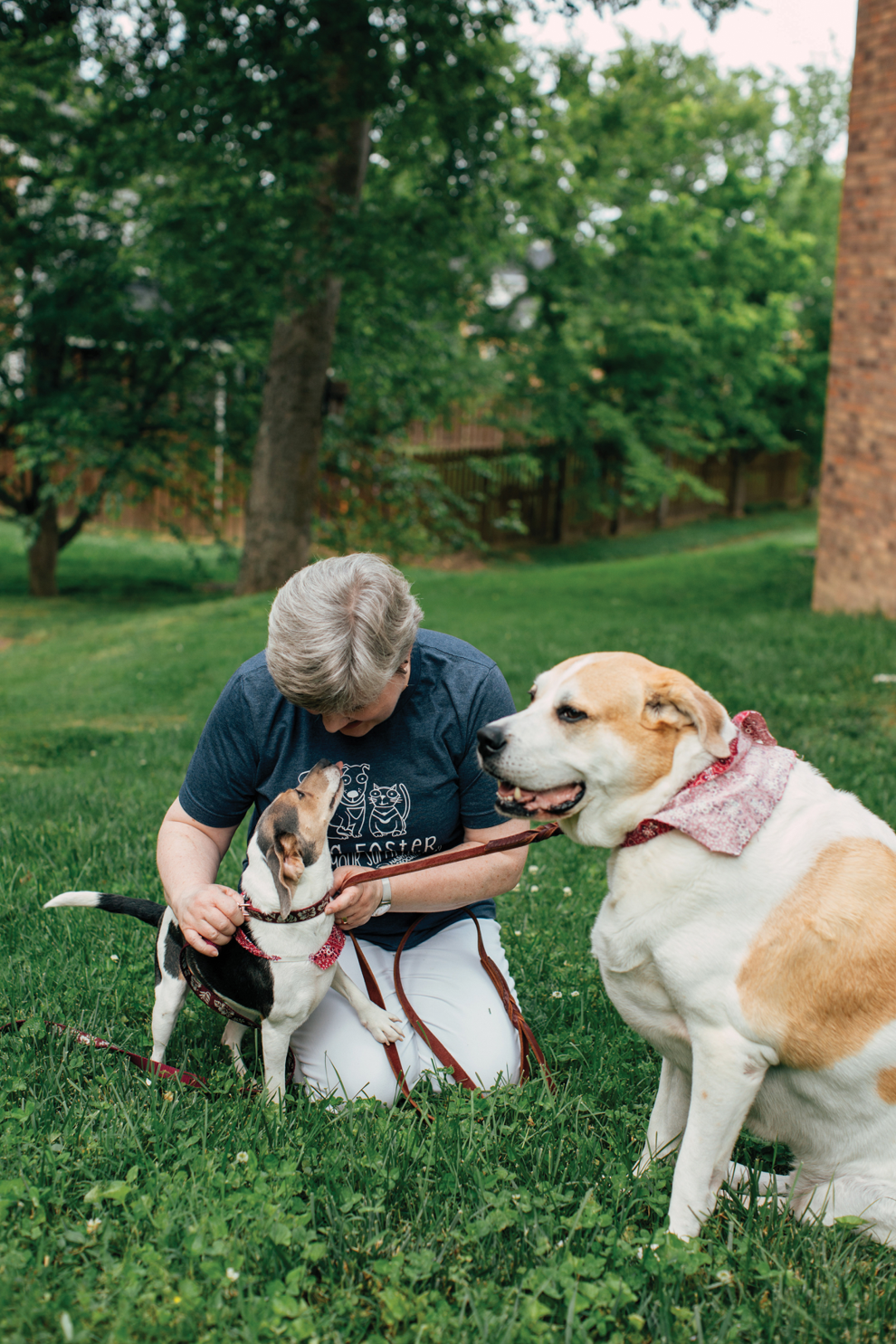 Fostering pets is a rewarding experience. Whether it's leading a puppy or kitten through its first few weeks of life without its mom or socializing an older animal to transition from shelter life to its forever home, there are usually smiles at the end. 
Tears, however, aren't infrequent either. After all, by their very nature, foster parents love animals and often grow to love their foster pets, but there comes a point when they have to give up the pooch or kitty to its new owner — unless they themselves adopt the animal permanently, a situation cheekily called "foster failure." Many tears are shed in the parking lot at the Nashville Humane Association.
But ultimately, there are happy endings here: a long life in a forever home with a family who chose the animal. Between the outpouring of support following the March 3 tornado and the massive number of Nashvillians stuck inside due to the pandemic, the NHA's foster program has grown exponentially. But within the ever-growing community of pet fosters, there is an elite unit with unique skills most of us find hard to fathom.
The hard truth is that not every animal that comes to a shelter is going to leave for a forever home. Long-term medical problems essentially make some animals unadoptable, as does an acute condition the animal is unlikely to recover from. Enter the hospice fosters, known colloquially as fospicers. When the NHA determines it's unlikely an animal will ever be able to be adopted — or that its remaining time is so short that adopting it out would be unfair — foster coordinator Erica Beard scans her list to find the right match.
"When trying to match a fospice animal to a person, we ultimately look for a person or family with stability," says Beard. "A lot of these animals are in their last days, weeks or months, and we'd love to keep them where they are as they age. If your family takes a lot of trips, constantly has people in and out, and has a lot of commitments, you may not be the best fit to take on a fospice animal."
Experience is also a key factor. Cara Sutcliffe, her husband and their teenage sons have, by Sutcliffe's own estimation, fostered 18 cats and kittens and 10 dogs. One of them was Tommy. The Sutcliffes had just finished fostering a litter of kittens when Beard put out the word that a woman with numerous cats had died and had essentially willed them to NHA along with money for rehoming. Among them was Tommy, who went to the Sutcliffes with "the idea we'd keep him for three weeks and he'd go back in" the shelter.
"In week three, he stopped eating," Sutcliffe says.
Tommy, in turns out, had a chronic and ultimately fatal thyroid condition, as well as a heart murmur. He went back to the NHA, and the Sutcliffes started fostering a new group of kittens.
"The kids missed Tommy," Sutcliffe says. "The boys said they wanted Tommy back and that they would pay for his medicine, so we told Erica we wanted to adopt Tommy."
Technically unadoptable, Tommy was eligible for fospice — but for whatever reason, the NHA had never done fospice for a cat. Tommy was a pioneer. He headed back to the Sutcliffes.
"It was like being a grandparent or doing Make-A-Wish," Sutcliffe says. "We didn't let our own cats on the table or the counter, but with Tommy, he was special. His food bowl and water bowl were on the kitchen cabinet. He lounged in the kitchen. He had four litter boxes and was the king of the house."
King of the house, even with one permanent resident being a 140-pound dog who had plenty of experience with kittens by this point — but none with adult cats, let alone one who clearly planned on having the run of the place.
"Tommy walked up to the dog and whacks him on the nose," she says. "And then they were fine."
Of course, Sutcliffe and her family knew how it was going to end. They prepared as best they could, including having long talks with the kids who'd begged to have him back.
"I'm a mom, and the kids had to understand," Sutcliffe says. "It was going to be hard to say goodbye. But it would be harder if we weren't there with him."
On May 15, it was time to say goodbye. It's always hard to say goodbye to an animal who has wriggled its way into your heart, but the Sutcliffes knew they had given Tommy the best life possible in his sunset days. Even so, of course, there were tears. Beard says that comes with the territory.
"It's OK to cry!" she says. "You will experience some wonderful moments with your fospice pet, and you will experience some not-so-great moments. It's OK to be raw with emotion."
Fostering in general takes a special kind of person with a special kind of understanding — an understanding that no matter how much they love an animal, it will be part of their household for only a few weeks. In fospicing, the endgame is a whole lot different.
"You never know exactly what you're getting into," says Sutcliffe. "You are dealing with an animal who has health concerns, and things come up quickly. You have to be prepared to communicate with the host organization. I was doing weekly email updates with Erica and the vet. I could communicate behavioral changes. Open communication helps you make those tough decisions."
Beard agrees that good communication is critical.
"A good fospice parent treats their fospice pet like their own and is very attentive to any medical or behavior changes — big or small," Beard says. "We count on our fospice families to be the ears and eyes for us so we can make sure the pet is continuously doing OK. Fospice families are very, very special people, and we could not continue our lifesaving without our small army of fospice families."