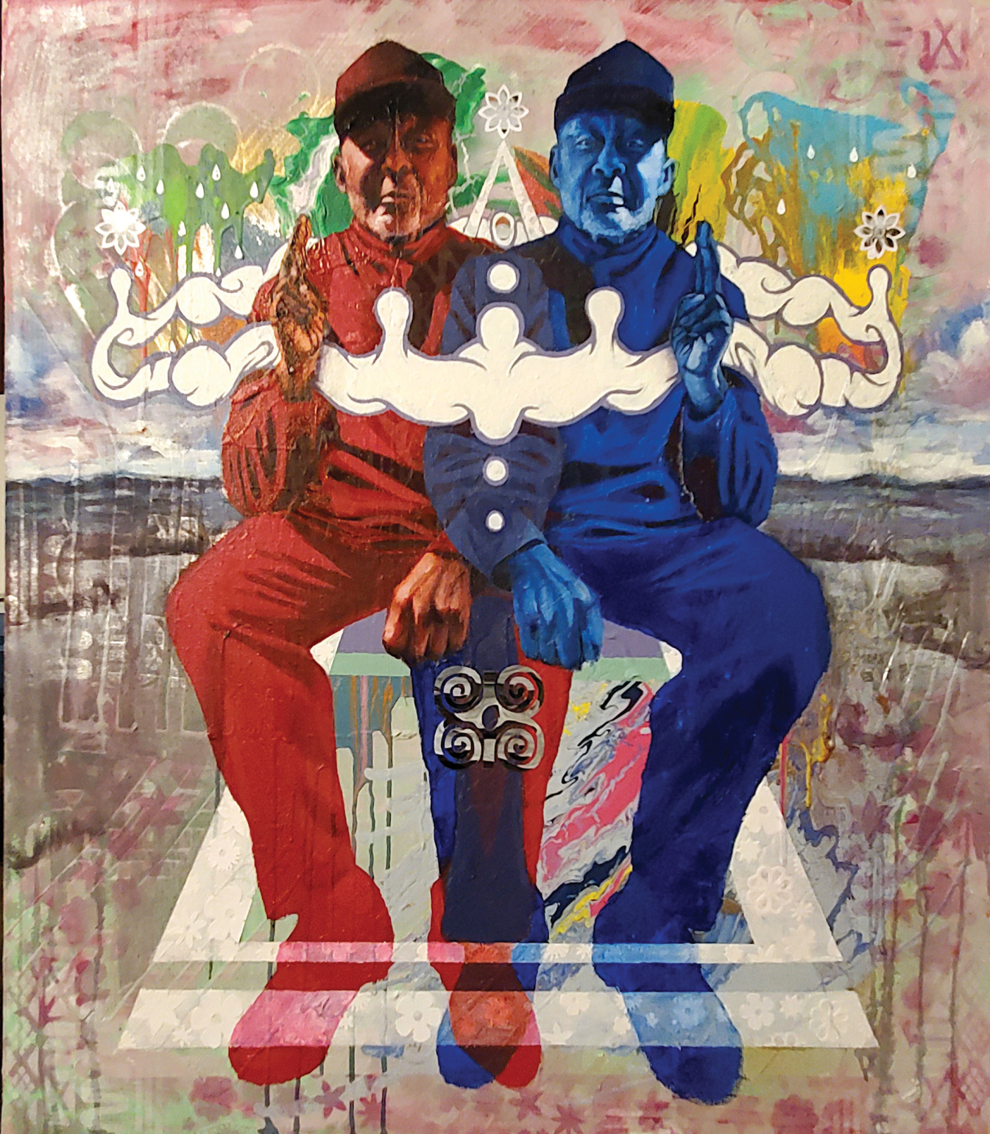 Sam Dunson's Black Flower is a season-spanning display that's my don't-miss pick among Nashville's fall gallery offerings. The show opens at The Rymer Gallery Oct. 17, and runs through Dec. 26. Curator Herb Williams is still working out the details regarding how the exhibition will be viewed in light of Nashville's evolving COVID-19 public safety measures. In-person viewing, a virtual walk-through and a live and/or online talk with Dunson are planned to ensure that all Nashville art lovers can access this stunning show. 
Black Flower is a deep display of sculpture and painting that resonates with identity themes like family and race. But looking deeper, Dunson's Flower represents the kind of personal growth that takes place within the unknown. Dunson is a Black artist and educator, and one of the founders of North Nashville's celebrated contemporary art scene. But in this show, the color black represents the choice between the thanatotic allure of decay and death, and the leap into the void that's required of every artist, person or country that aspires to ascend into the next-best version of themselves. Highlights here include "The Try Cycle," a midcentury tricycle bedazzled with faux flowers, costume jewels and colored thread. Keeping with Black Flower's twin themes, the baby bike is simultaneously vibrant and funereal, and it's the iconic work of the show. "Thou Art Loved … Thou Art Loved" doubles down on Black Flower's bifurcations with a double portrait of Dunson's father, and "Mama" finds Dunson himself reclining in his mother's arms — an Afrofuturist pietà.  
Frances Berry's iconic "Hooray Face" paintings are emblematic of the programming at Channel to Channel. Berry is a Memphis-based artist, and At Your Convenience is a collaborative exhibition with her studio mate, Stacy Kiehl. The show runs through Oct. 31.
Channel to Channel had a socially distanced, but in-person, opening for its new show on Sept. 18. Coop — Channel to Channel's Packing Plant neighbor — has done something completely different, deciding to temporarily transform its space into a studio hosting an artist-in-residency program. Yanira Vissepo's art reflects a variety of cultural influences: Vissepo was born in Puerto Rico and recently studied traditional printmaking in Japan. Keep up with  her vibrant abstract botanical makings by following her Coop residency on Instagram — she's @yaniravissepo. 
The variety of strategies that Nashville gallery spaces are deploying to survive and become stronger speaks to the resilience and fighting spirit of our gallery scene. Tinney Contemporary is doing a great job of presenting exhibitions online, and its October show is beautifully displayed at the gallery's website, tinneycontemporary.com. K.J. Schumacher's Rinna connects the dots between midcentury Abstract Expressionism, its echoes in the 1980s and its persistent presence — even in the practices of quarantined contemporary painters like Schumacher.  
Tinney has also been instrumental in organizing and growing the Virtual Art Crawl, which consists of a video tour of current gallery exhibitions hosted at the Nashville Gallery Association's YouTube channel. October's Virtual Art Crawl is the biggest yet — it includes happenings at OZ Arts, a project from Poverty and the Arts, and the latest display at Raven & Whale in East Nashville. The Virtual Art Crawl video goes live Oct. 3 at 6 p.m.  
Julia Martin Gallery will host Shift Your Paradigm, an all-star group show including work by Beizar Abdi, Benjy Russell, Betty Turbo, Bryce McCloud, Jon Langford, Kate Csillagi, Nuveen Barwari, Marlos E'van and Savithri Velaga, as well as another appearance by Dunson. Shift Your Paradigm will be on view from October through November, and offers the same community-wide reflections on contemporary crises and challenges as the Breathless exhibition at The Red Arrow Gallery this summer. I'd like to see more of these up-to-the-minute group exhibitions.