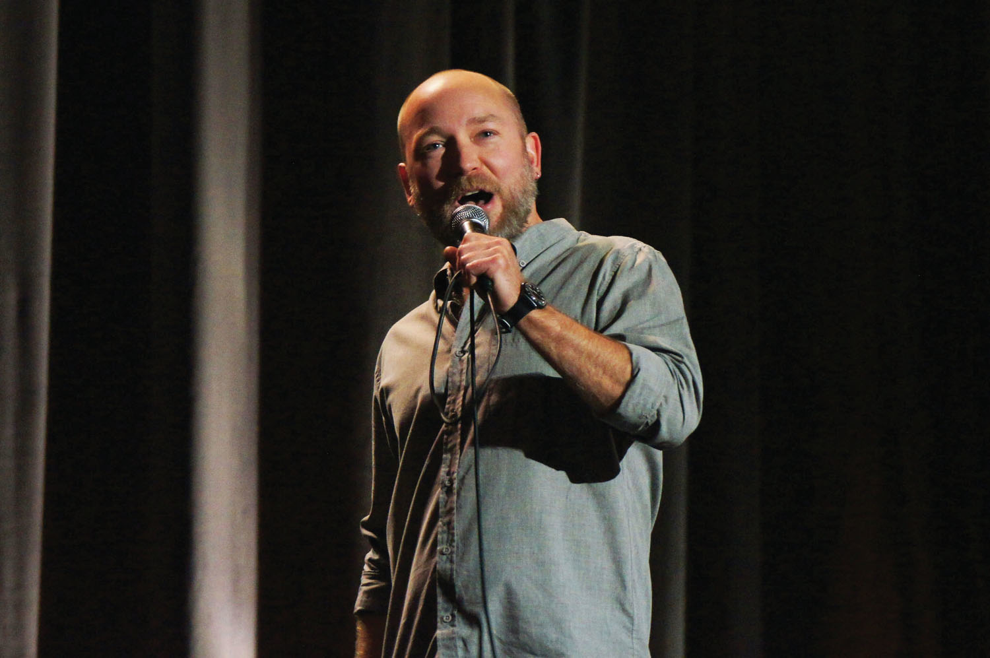 Maybe you know the affably gruff sound of Kyle Kinane's voice from the time he has spent as one of the finest storytellers in modern comedy, or from his magnificent and deconstructive podcast The Boogie Monster with comedian Dave Stone. Or maybe you know him as the voice of all the in-house promo at Comedy Central. But honestly, if you watch Comedy Central and don't know Kyle Kinane by sight and reputation, then I have to question your commitment to contemporary humor. 
He's had heaps of albums and specials, a stellar turn in an otherwise delectably terrible horror film (Cheerleader Massacre 2, which is well worth your time for its cheerleaders, its massacre and its status as a near Phantasm rip-off), voice work in some of contemporary animation's finest, and one of the more consistently entertaining podcasts involving cryptids, conspiracies and recipes. In addition to that, Kinane just got back from a comedy tour through China, which is cooler and more difficult than anything you or I did over the past few weeks. 
We spoke with Kinane, freshly back in the country, via email in advance of his Nashville stop on Sunday. Kinane's show at The Basement East is now sold out.
What was the most unexpected thing that happened to you while you were in China?
I didn't get diarrhea.
As someone who bikes a lot, do you enjoy it most when you're on your own, or when among a community of other bikers?
I like mountain biking, but I'm terrible at it, so nobody wants to ride with me anyway. So I guess I'm forced to enjoy it on my own.
Since you started The Boogie Monster, have you noticed any changes in your fan base, or in whatever goodies they may offer after shows?
Nobody should feel the need to bring stuff to the shows, but we have been bestowed gifts. Lots of salsas and whiskeys. Those are the best kinds of gifts. 
So, if the official one doesn't come through for you, have you considered starting your own Puppy Bowl?
This may be the best idea I've ever heard. A rogue league of abandoned street dogs and a The Longest Yard style game. I dig it.
You've spoken favorably in the past about one of the more drunken sports, bowling, and I would like to know if that affection includes miniature golf. Mini golf may actually be more of a stoned sport, but do you think this is a fair distinction?
Mini golf requires a restraint that I simply don't possess after a few cocktails. Those putters become drivers after about four beers.
What's your prescription for a shitty day?
Crystals. Get into crystals. I don't think they work, but I like it when other people are into them.
How often do you get recognized because of your voice work?
A few years ago I was camping alone in Point Reyes, north of San Francisco. I was sitting on a log on the beach, long after the sun had set. Some people came by looking for firewood and after a small conversation, said, "You sound like Kyle Kinane." So yeah, once, I guess. 
Email arts@nashvillescene.com