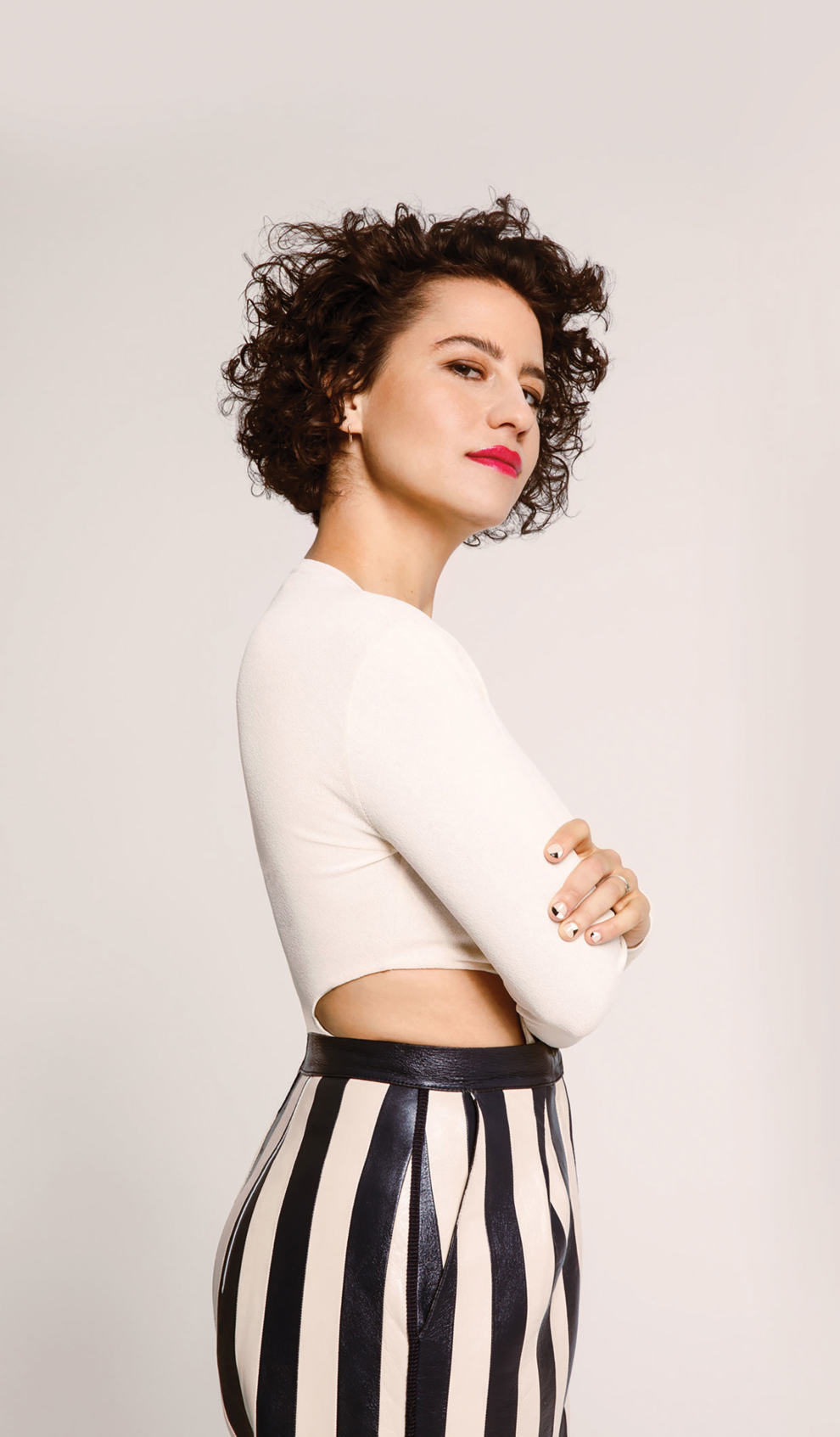 In March, after five seasons and 50 episodes, comedian-actress-writer-director Ilana Glazer and her partner Abbi Jacobson called it quits on their breakout Comedy Central program Broad City. During its tenure, the show relied upon many of the central tenets of stoner comedy — sight gags, fart jokes, absurdism, catchphrases, low-stakes predicaments. But it was also ultra-relevant, always considering and covering topics like inclusion, consent, diversity and recognition of privilege.
Those are themes audiences can also expect Glazer to dive into when she brings her new stand-up tour, The Planet Is Burning, to TPAC's Polk Theater on June 4. Ahead of Glazer's stop in Nashville, the Scene spoke by phone with the multi-hyphenate performer about activism, ending her hit TV series, and maintaining a positive outlook despite the fact that, well, the planet is burning.
What's life like after Broad City? I'm sure it was bittersweet bringing it to an end, but are you happy with where you left it and what you were able to accomplish over five seasons?
You know, I felt so complete and filled-up and satisfied with the way we ended Broad City, and when and how we ended Broad City. It totally was bittersweet. I love it so much. … It felt like sending a kid to college. We raised this baby up, and now — I'm talking about the show, but I guess also the audience. And I really am so proud of the love and care we communicated to our audience with the arc of the fifth season.
One of my best friends moved to Pittsburgh for medical school, and then San Francisco to become a doctor there, and it was really hard to continue to put work and time into our relationship. But it's OK, and we're still best friends. ... It was nice to let our audience know that you can still have the burning core of a special relationship, even if the circumstances around it change. And life after Broad City — man, Abbi and I started the web series, um, many years ago [laughs]. And we've been creating this alternate version of ourselves, and this alternate life for 10 years. It feels really good to move forward and beyond it. It's scary, but I feel so proud of what we accomplished and what we learned, and the skill set we earned in that experience. I feel really good and just equipped to make new goals and make new art. … I just wrapped a film that I wrote and starred in, and my writing partner for the film directed it. We did it in New York, and that was really fun.
False Positive, is that right?
Yes, that's right. And it was another passion project, kind of closer in the "birthing" vibe to Broad City. False Positive is all about birth, so no pun intended. But it was something I'm super passionate about, obsessed with, and in New York. And it was my set, and John Lee, my writing partner and director's set. So that felt similar to Broad City, and felt good and familiar in that way.
So this stand-up tour is really the first time audiences will be seeing you since the show wrapped — it's the first time you're getting in front of eyeballs since Broad City ended. What made you decide to go out on the road? Why now?
When I do stand-up, I'm like, "Oh, my friends came to see me do stand-up, like lol." But also I think my audience has a really communal vibe, and I miss my audience. It's such a privilege in stand-up to be able to go literally fucking see and hear your audience. And in a way, make love to your audience. It's all I want to do, is please and entertain these people. It is such a privilege to be able to do so efficiently. And also I've been working on this material for a couple years, and in my experience of writing and producing, deadlines make the thing real. They make you make the thing.
The name of the tour is The Planet Is Burning. That's a hell of a name. Are you talking about climate change a lot in your act? Or are you talking about the metaphorical ways that our globe is burning?
You know, I'm not a perfect eco person at all. Like, once in a while I forget my fucking cup and have to buy a plastic iced coffee cup, and it kills me. But I'm a minimalist in this way, and I just wish that everyone was talking about global burning. The Guardian just [changed its usage] from "global warming" to "global heating." I wish we were all talking about it all the time. My content is not about about climate change, but I think my vibe encapsulates the reality of someone who is a climate-science — I don't even want to say "believer," because it's just the truth that the planet is burning. So it just feels like, if I'm gonna repeat something, and if I'm gonna post something and hashtag something, I want it to be [something that I think people should be] talking about all the fucking time. … And so for me, my art is very defined by my reality. And that's why that's the title. Because I think my sense of reality is very deeply embedded in every joke and every line. Sometimes I'm silly, and I'm mostly silly — it's not serious. But it's also contrasted with my sense of reality, which is, um—
Dire?
Dire, exactly. Which is dire, because it is.
So it's not that the content is about global warming, but that's a motivator. What informs your worldview are these dire things that some people are calling into question, right?
Yeah. Patrick, thank you for that phrase. I'm gonna be repeating it in press like, "What informs our worldview" — that's exactly right. My sense of reality, which is dire, and what informs our worldview is how artists create art.
And, you know, there are so many fucking stand-up specials, there are so many talking heads. There's one way of getting your art out, which is a writer's room, and you have topics that you cover — like Sam Bee and Hasan Minhaj and John Oliver and Trevor Noah. ... I really like these shows, and they're helpful and informative. I'm just doing more stand-up and entertainment, but the title is definitely the lens through which my worldview is seen.
You're an active advocate and activist both in your work and on social media. Do you ever find — particularly over the past two-and-a-half years — that it's a challenge to stay motivated and inspired and optimistic?
OK, I'm gonna answer this in two parts. ... It's funny, people keep saying, "You're an activist." And I don't know that I am. I'm learning about activism, what it is, what it looks like, what it means. I'm an artist, and I like to use Instagram to inform people about [things like] voting. But I see activists as politicians who are using their platforms to help people. Like Ayanna Pressley, A.O.C. and Ilhan Omar and Elizabeth Warren. It's interesting to keep being told this. I have this project called Generator [Collective], and again, I don't even consider it activism — I interview politicians and activists, and I'm trying to learn, like, how one hinges from activism into politics, just to learn the system. But you know what I mean? I see myself separate from them.
But what is an activist if not somebody who uses their platform to illuminate things that the rest of us don't know about?
You know what I think [an activist] is, though? I think it's someone who forgoes capitalism. For the people. And I'm not doing that yet. I'm hustling. I do think it's really important for women to be savvy in business, make money, climb in the world in that way. I want to occupy that space. And I want to do it because I think it's good for women, and good for the world. But I consider activism someone who forgoes the capitalist system, and just makes it work. There's this woman, Patricia Okoumou — the woman who climbed the fucking Statue of Liberty. And I went just to support her at her courthouse hearing. … I was just asking her about her life, and she just kind of gets donations, and does big things like this. She's like, "Hello, children are being killed while in immigration custody! Why?" And I'm like, that's a fucking activist. … I want to share my journey of learning about activism and politics and how they relate to each other with my audience.
And then the second part, the fatigue. I have to be honest — I am having so much fun creating art and sharing it with people, that that is what keeps me motivated. And I get to see so much beauty up close in my work, that that's what keeps me going. But I'm feeling the fatigue in posting and informing about it. I am feeling activism fatigue. That Alabama [abortion legislation] shit paralyzed me. … But I am optimistic that — and this is something I will be talking about in my tour and in my special — I'm optimistic … that the world is changing, and that this is a last gasp of the system as we know it. We're changing, the world is dividing itself, all over the world — [between] authoritarianism versus actual, real democracy. And I really think that the future is female, that women are going to run the world very shortly, and that real democracy is erupting in the form of social media. And I know social media is fucked, and they're surveying us and whatever. But I really think that this heightened access to communication is making it possible for us to take the world back. But we just have to do it before the climate burns.