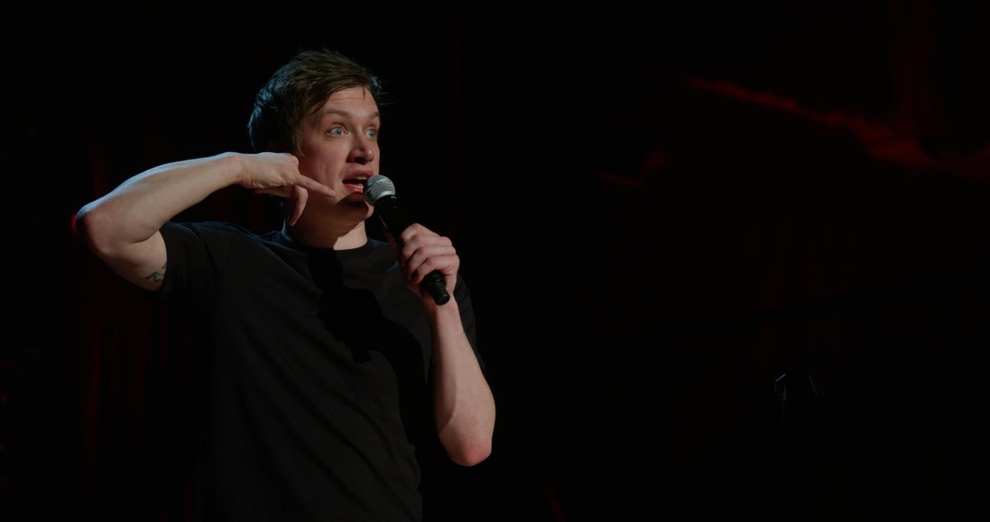 The near-meteoric rise of Scottish comedian and storyteller Daniel Sloss is a glorious blast of cosmic reassurance from the universe that distinctive voices are out there in the world and ready for discovery. With two of his recent shows (Dark and Jigsaw) dropping on Netflix in September, the awareness level of the average domestic streamer is now equal to the fearless and incisive wit in the material, and Sloss is currently touring America as a headliner with his new show, X, which comes to TPAC's Polk Theater on Sunday.
The Scene spoke with Daniel Sloss via email in advance of his Nashville debut.
You've been racking up a lot of firsts in your career, being the first English-language comedian to tour in a lot of places. For these kinds of shows, do you find yourself having to do any extra research, or adjusting your material, or has the internet helped to acclimate potential audiences to you?
The internet has made me reach an entirely new audience who are already up to date with who I am and what I'm about before I walk onstage. It's great. First time I played Lithuania, I was having a tough first 15 minutes. None of my best jokes would land, but all my improv killed. I couldn't understand it. Then a man in the front row politely raised his hand and said, "Any joke you've done on Conan, we've all seen several times." 
You'd been doing periodic appearances here and there in the U.S., appearing on Conan's show, and even opening for Dave Chappelle. And then all of a sudden, Netflix puts out Dark and Jigsaw on your birthday. Did it all change, as far as your domestic audience?
It changed everything. I was already semi-successful in Scotland, England, Europe and Australia. I'd spent eight years building my audiences up in those areas, getting to the point where I could sell out small theaters there. Then Netflix happened and we pretty much tripled venue size everywhere. I'm now touring America, and it's been less than a year. Utter madness.
After a particularly shit day, what's the film or album that restores your baseline mood?
Bo Burnham, What. Music doesn't speak to me the way it does to others. I watch my friends get emotional over albums and songs, and it doesn't really resonate with me. I like some music, but I can't remember the last time I bought an album or sought an artist out (apart from ma boi Lewis Capaldi, Scottish lad, king amongst men). Comedy speaks to me, and I think Bo is one of the greatest comedians ever. What is in my top five stand-up specials, and I listen to it 10 times a year.
So X is your 10th new show in as many years. Upon realizing this, my first thought was, "Oh, like Kylie Minogue." I just thought I'd share that. But also, 10 shows in 10 years is a staggering achievement.
It is. I'm very talented.
Do you separate out your time creatively? When you're performing and on the road with a show, are you also writing ahead for the next one at night or at odd moments during the day, or do you focus on evolving the show you're currently performing until you've finished with it?
I come up with material whenever it hits me. But I don't like working on new material while doing an old show, I find it distracts me. I'm too excited and focused on the new stuff, that I get bored of the old stuff and I don't want to look bored in front of my audience. So I keep the show I'm touring fresh and fun, then bin all the material and start from scratch.
What's your preferred mode of transportation?
We normally fly, but after this first tour of America I'm gonna ask for a tour bus next year. Not even a big one. I just feel I'm missing so much of this country by flying over the top of it. We never spend long in places 'cause we have to get up early. Also, no offence, but Americans are fucking HORRIFIC in airports. You have zero queue etiquette, no special awareness, no sense of urgency, and it's frustrating every day.
What do you consider the weirdest of American foods?
I saw you psychos put marshmallows on sweet potatoes at Thanksgiving. It was delicious, obviously. But seriously, guys, come on. Stop that. Have some self-respect.
If you were to see signs at greeting-card shops, florists and chocolatiers with your face and one of those big red circles with a slash through it, would that be a sign that your message had made it to everyone who needs to hear it?
I know my job on this planet is done when I no longer see any Instagram post with the caption: "Me and dis 1. Bin threw thick and fin. We argue a lot but dat just meen we pashunate." And all that absolute fucking shite. Can't stand people rubbing shit relationships in your face as if it's something to be envious of.
Along those lines, do you have a numerical goal as far as helping people end toxic and/or dead-end relationships? Jigsaw has helped thousands and thousands of people figure out what they want from life, which is staggering. In America, you're already eminently qualified to start a cult, if you like.
No goal, really. I never intended to break any of those couples up. I had just gotten out of a very toxic relationship, and I hated how I felt during it. I just wanted to make sure no one else goes through anything like that. I wanted to be the light at the end of the tunnel saying "Breakups suck, but not as much as your partner does." I'm still blown away and thrilled by the numbers though. It's already cultish.
The big news in the online entertainment world right now is Google having banned Viagogo from advertising in internet search results because of sketchy business practices. As a performing artist, what are your thoughts on the byzantine paths that tickets can take between the venue and the ultimate viewer?
Fuck Viagogo. I hope they're all devastated. I specifically price my shows so that my fans can get to see them. I never, ever want anyone who likes my stand-up to be outpriced. I'm one dickhead with a microphone and I charge accordingly. I try to make them as affordable as possible, and these sites like Viagogo destroy that. They buy all the tickets and over-charge. If anyone is going to scam my fans and overcharge them, it should be me. I hope everyone at Viaogo is truly crushed by their unemployment. If you're reading this, fuck you. HAHAHAHA FUCK YOU.
Is there an inherent rivalry between knitters and crocheters? My grandmother and great-grandmother were staunch crocheters, and there always seemed to be a kind of threat in crochet — that single needle always doing violence even as it created. Whereas knitting always seemed to have a balance to it, with two needles finding stasis, and working together to create.
I've found that knitters are very pleasant people. They always bring me wool and needles and stuff like that. I've not met many crotcheters, but they all seem to be just happy that you joined in.
With climate change, Nazis being back, income inequality and cruelty being codified the world over as fears that most people share, I want to ask what your most unconventional or irrational fear is.
Velvet freaks me the fuck out. For some reason touching it sends shivers down my spine. It's like nails down a chalkboard, but all over my body. I get the same reaction to cotton wool balls. Also, moths can fuck off.
If a restaurant or delicatessen were to offer a Daniel Sloss sandwich, what would be on it?
A lot of meat.