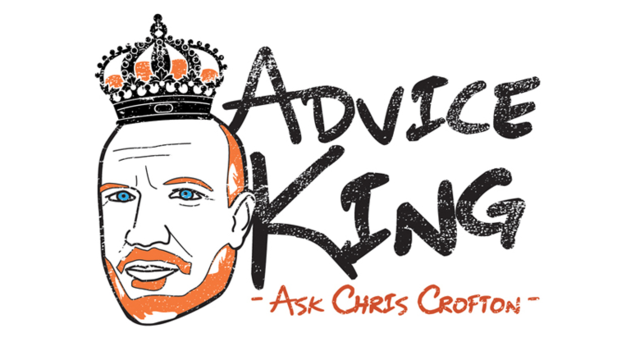 Comedian, musician, host of Chris Crofton's Advice King Podcast and former Nashvillian Chris Crofton asked the Scene for an advice column, so we gave him one. Crowning himself the "Advice King," Crofton will share his hard-won wisdom with whosoever seeks it. Follow Crofton on Facebook and Twitter, and to submit a question for the Advice King, email bestofbread[at]gmail[dot]com or editor[at]nashvillescene[dot]com.
---
Dear Advice King,
Every Thanksgiving, I attend a large family gathering where we all play games with the kids, listen to Alice's Restaurant and enjoy a delicious potluck feast in the afternoon. It's my favorite holiday! But this year, COVID scrapped all our plans, so I will be by myself. What should I do instead that will be equally festive?
Thanks!
—James in Burbank, Calif.
If you really can't get the lid off the pickles, some pickle companies have centers where you can bring the jars and have them opened professionally. They're called "unscrewing centers." I'm Googling it now and I can't seem to find any. I might be losing my mind. Good luck!
I tried to answer the question without reading it again.
This is the fourth column I've written about Thanksgiving, James. Here are the others.
Growing up, I never liked Thanksgiving. The adults wanted to drink and smoke, so they sent the kids to the basement. The basement was not a fun basement. It had an old couch in it, and some board games with most of the pieces missing. We would be down there for about three hours. Then we ate dinner at a little card table and everyone spilled their milk at once. 
What kind of family do you have? A functional one? My family regarded — and still regards — potlucks with suspicion. Occasionally my mother succumbed to the pressure and agreed to be involved in a potluck. Her contribution was always "ambrosia salad." Hot tip: If you are ever interrogating me, threaten to serve me ambrosia salad.
Ambrosia Salad Recipe, 1978

3 cups ham

4 cups mini marshmallows

4 cups mayonnaise

2 cups rainbow sprinkles

1 bag shredded coconut

1 quart beef stock

Mix the ingredients in a huge bowl with a concerned look on your face while "You Light Up My Life" by Debbie Boone plays on the radio. Serve.
I'm genuinely sorry that you're missing your favorite holiday, but it's for the good of humanity, James. There are SO MANY fun things you can do instead! You can eat cranberry sauce out of a can and watch porn! You can split a turkey sandwich with a rat!
I'm kidding! Go for a walk. Watch a movie. Get drunk on a Zoom call! Drink nonalcoholic beer and play records. Look at the moon. Write a love letter. Write a song. Paint a picture. Watch the 1982 Daytona 500 on YouTube. 
We have so much to be thankful for! We are getting through this. Love is rising up against hate! Just remember that often, the people we disagree with are not as lucky as we are. They have been given bad information. Give them the good information, and try to give it to them in a reasonable tone of voice. HAPPY THANKSGIVING!!!