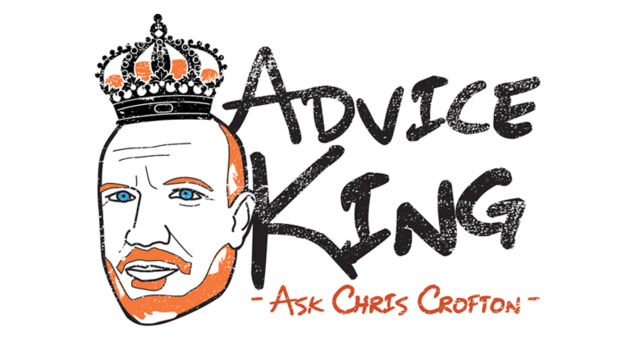 Comedian, musician, host of Chris Crofton's Advice King Podcast and former Nashvillian Chris Crofton asked the Scene for an advice column, so we gave him one. Crowning himself the "Advice King," Crofton will share his hard-won wisdom with whosoever seeks it. Follow Crofton on Facebook and Twitter, and to submit a question for the Advice King, email bestofbread[at]gmail[dot]com or editor[at]nashvillescene[dot]com.
---
Dear Advice King,
I notice a lot of "hot chicken" places springing up around L.A., and I recently learned it's a Nashville creation. As a Nashville native, do you recommend I try one of these places, or is it just going to be "inauthentic" and disappointing?
—Hungry in Hollywood
I don't think you ALWAYS have to have an umbrella with you, Agatha. Especially if your husband is terrified of them. You make a good point when you say that weather reports are unreliable, but if it's going to break up your marriage ...
I tried to answer the question without reading it again. I thought you were a rain-phobic woman named Agatha whose husband is scared of umbrellas.
Thanks for the question, "Hungry in Hollywood." First of all, I am not a Nashville native — I'm from Connecticut. I moved to Nashville in 2001. What food is Connecticut known for? Frozen peas? Assorted overcooked meats? In Connecticut (at least in the 1970s and '80s) the spiciest thing happening was Gulden's Mustard. Spicy foods were considered "exotic," and I got the definite vibe that people who ate them should be regarded with suspicion. Here's a short play I wrote about it, called The Red Phone:
The Red Phone
Connecticut, 1978; interior, split-level ranch
Agitated suburban father puts down his gin and tonic and tennis racket, lights cigarette, feverishly dials red rotary phone.
"Hello. Is this the FBI? May I speak to whoever is in charge of the House Un-American Activities Committee? I'm in Connecticut and I'm pretty sure I saw my neighbor eating salsa! It's CLOSED?! Who am I supposed to call? Yes, I'll hold."
*The hold music is a mariachi band*
*A man wearing a sombrero sneaks up behind him, and strangles him with the phone cord*
*World explodes*
-THE END-
As I have previously mentioned, all the best plays end with the world exploding.
Hot chicken was invented in Nashville by an African American family. A long time ago. When Nashville was still segregated, and the country music industry was in its infancy.
These days, Nashville is a "destination city," with glittering hotels and skyrocketing rent. African Americans continue to be forced out of historically Black neighborhoods by developers looking for new places to put luxury condominiums and, wait for it ... HOT CHICKEN RESTAURANTS. 
Prince's Hot Chicken is the original — and authentic — hot chicken. When the Prince family invented hot chicken back in the first half of the 20th century, it wasn't intended for white people — not because the Princes were racist, but because white people had segregated them! Now it's being used as a novelty to entice wealthy whites to Nashville. (No state income tax! Hot chicken! Tomi Lahren!). And — you guessed it — the knockoff versions aren't nearly as spicy as the original.
Prince's Hot Chicken is Chuck Berry, and all the rest are John Mayer. Long live Prince's, long live economic diversity, long live heat. Fuck lukewarm luxury.