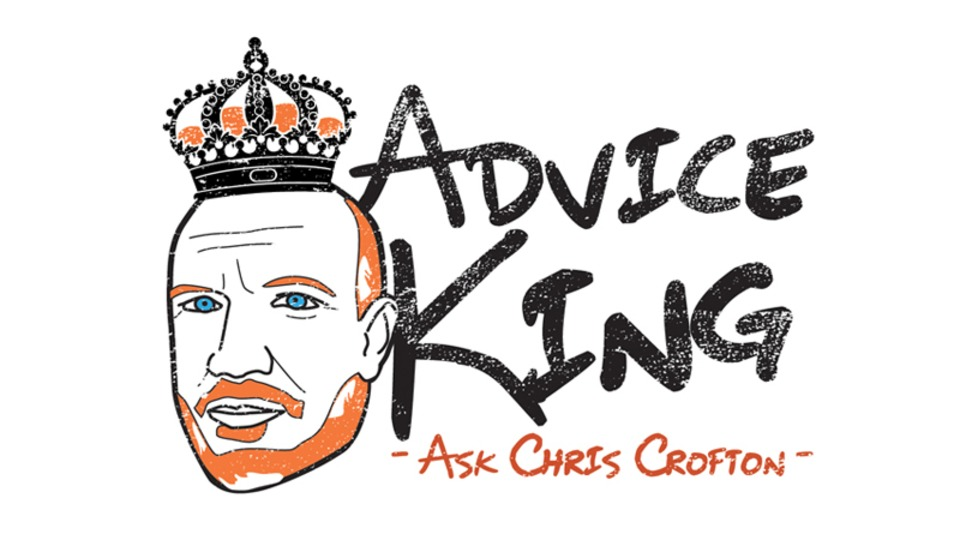 Comedian, musician, host of Chris Crofton's Advice King Podcast and former Nashvillian Chris Crofton asked the Scene for an advice column, so we gave him one. Crowning himself the "Advice King," Crofton will share his hard-won wisdom with whosoever seeks it. Follow Crofton on Facebook and Twitter, and to submit a question for the Advice King, email bestofbread[at]gmail[dot]com or editor[at]nashvillescene[dot]com.
---
Dear Advice King,
I love podcasts, so I'm thinking about starting one in the new year. But the "market" seems saturated. How do I make my podcast stand out, especially since I don't have any expertise in anything?
—Anthony in Hoboken, N.J.
In my opinion it's never appropriate to use profanity in a job interview. You can explain that you are a very hard worker without saying "shit" and "balls to the wall" and that kind of stuff. I don't care what your stepfather Kenneth says. 
I tried to answer the question without reading it again. I thought your stepfather told you it was impossible to get a job "these days" without cursing.
Hi Anthony! A podcast, huh? The end of the line. The last stop. Are you sure this is the way you wanna go? Have you already tried marketing your own hot sauce? My hot sauce brand went under. That's how I ended up podcasting. My bankruptcy lawyer said he figured no one bought it because "Advice King's Cajun Ass Blaster" sounds too much like a sex toy. 
What was the question?
Oh yeah, podcasts. Do a podcast about John Sebastian. I'm listening to him right now, as I write this. He was in The Lovin' Spoonful, made a bunch of mediocre 1970s albums that I love, wrote the theme to Welcome Back Kotter and played harmonica on The Doors' "Roadhouse Blues." He was also the most stoned person at Woodstock — which is really saying something.
Do a podcast about the TV show The Curse of Oak Island. Have you seen that show? Two brothers are looking for treasure supposedly buried on an island in Nova Scotia. So far, all they've found is a bunch of wood. Sometimes they announce that this wood might be from a "treasure vault," because it "is old." I find these guys and their quest to be extremely relatable. Aren't we all hoping that our old wood is part of a treasure vault, metaphorically speaking? Interview the brothers. Ask them if they ever get sad.
How about a podcast called Soup of the Day? You can open the show by playing a recording of somebody slurping soup and then yell "SOUP OF THE DAY!" with a ton of reverb on it. After that, read the Wikipedia entries for different soups. "Some of the earliest origins of minestrone soup predate the expansion of the Latin tribes of Rome into what became the Roman Kingdom …" etc. Do a different soup each week for the rest of your life. If you run out of soups, make up fake ones. "Skittle Gumbo." 
Tagline: "Chef's Table for non-sociopaths."
Are you ready for my real advice, Anthony? OK, here we go. 
DON'T DO A TRUE CRIME PODCAST. 
Is it any wonder that we all feel like shit? After we're done checking out Twitter's daily mile-high tower of the world's worst news, we "unwind" by listening to MURDER PODCASTS. I listen to so much true crime that all my targeted advertising is for duct tape, shovels and maps of state parks.
LESS MURDER, MORE JOHN SEBASTIAN™