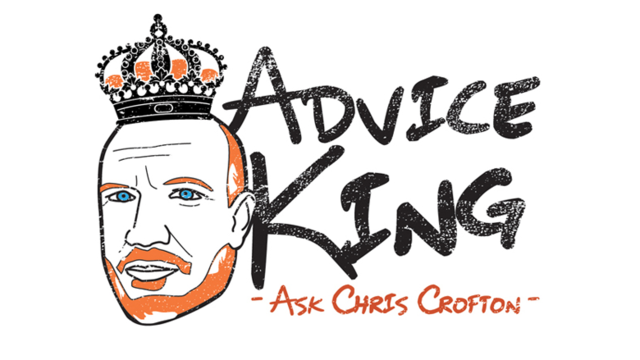 Comedian, musician, host of Chris Crofton's Advice King Podcast and former Nashvillian Chris Crofton asked the Scene for an advice column, so we gave him one. Crowning himself the "Advice King," Crofton will share his hard-won wisdom with whosoever seeks it. Follow Crofton on Facebook and Twitter, and to submit a question for the Advice King, email bestofbread[at]gmail[dot]com or editor[at]nashvillescene[dot]com.
---
Dear Advice King,
What are some fun ways to connect sexually, even from a distance?
—Horny in Gloucester, Mass.
Uh oh! X-rated advice column alert! I've been waiting a long time to write one of these. 
#NUDE #NUDITY #NUDISM #SEX #BARE #BARENESS #COVID #KLEENEX
Let's kick things off with a steaming hot sex poem:
SEX
nude folks
who refuse to not be nude
doing nude things
with 
exciting
nude
results
No. 1: Sexting. "Sexting," for the uninitiated, is "sexy texting." It's completely COVID-safe, since it requires no physical contact. Here's an example: 
ME: Hi Sally. I wish I was with you and we were having sex. That would rule. 

SALLY: Oh boy. You rascal. I have a bed where I am, and we could use it.

*ME AND SALLY BOTH ORGASM*
I'm not very good at sexting. I'm too embarrassed to write anything explicit because I don't want the NSA to know that I'm a dirty bird. 
Perhaps you are like me. You want to text someone the unspeakable, consensual, extremely nude things you'd like to do with them, but you don't want creeps like Michael Hayden and General Paul M. Nakasone to be able to follow along. I found a way to do it: CODE. 
I sent the code to my long-distance girlfriend Rhonda in a letter. Here it is:
VAGINA: Susan B. Anthony

PENIS: The Washington Monument

BREASTS: Groupons

BUTT CHEEKS: Car loans

FLUID: Ducks

MOTOR OIL: Motor oil
Now Rhonda and I can really let loose, and no one's the wiser! 
ME: How's Susan B. Anthony? Is she covered in ducks?

RHONDA: Yes. And my Groupons are gigantic, as you are well aware.

ME: I wish I could put motor oil on your car loans.

RHONDA: I know you do. Is the Washington Monument standing? 
*Mops brow* Is it hot in here?
No. 2: Role playing. For those people who don't mind the NSA knowing how sex-crazed they are, I recommend role-playing on a video phone call. Me and Desiree — another of my pandemic "girlfriends" who I've never actually touched — use Skype. Our favorite game is called "Midnight Express," based on the 1978 film of the same name. The movie is about an American man serving a life sentence in a Turkish prison for smuggling hash. In one famous scene, his girlfriend presses her bare Groupons up against the glass separating them in the prison visiting room while he tried to rip the roof off the Washington Monument. 
Reenacting this scene at home is not difficult. First, get the video call going. Next, allow COVID to set the mood. Let's face it, our current situation is more like a Turkish prison than it is unlike a Turkish prison, so it shouldn't be too hard to get into character. When you're both equal parts horny and miserable, all you have to do is decide who's going to be the prisoner and who's going to be the visitor! Have fun pressing "stuff" up against your laptop screens!
Pro tip: Cover your computer with plastic wrap so you don't get "ducks" all over it. 
No. 3: Pole with a rubber glove on it. If you STILL aren't satisfied, meet your partner at a clearing in the woods. Bring a boombox. Put a buttered rubber glove on the end of a six-foot pole. Press play on an Incubus CD, and get #NUDE.