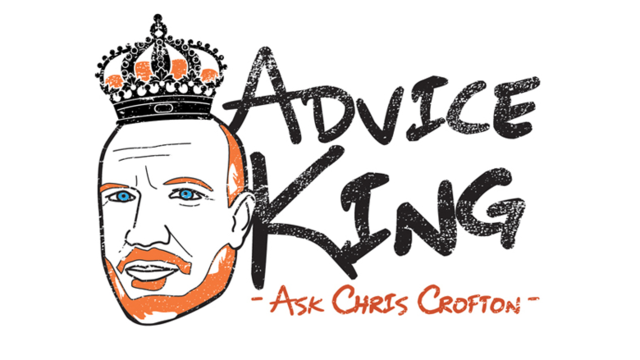 Comedian, musician, host of Chris Crofton's Advice King Podcast and former Nashvillian Chris Crofton asked the Scene for an advice column, so we gave him one. Crowning himself the "Advice King," Crofton will share his hard-won wisdom with whosoever seeks it. Follow Crofton on Facebook and Twitter, and to submit a question for the Advice King, email bestofbread[at]gmail[dot]com or editor[at]nashvillescene[dot]com.
---
Dear Advice King,
My new girlfriend just told me she used to be a stripper. For some reason it's making me uneasy, even though I'm an open-minded guy. Is this normal, or is there something wrong with me?
Thanks!
—Sean from Albany
I'm not sure how often you have to plow your fields, Henry. It's probably on the internet somewhere. I think you might have to do it every day. Or maybe just on Mondays, and then you plant on Tuesday. And then the crops are ready Sunday, and then you plow again. I'm really not sure. One thing I do know is that if you're growing carrots, you'll need some big ladders at harvest time. Carrot trees are very tall. 
Hi Sean. I tried to answer the question without reading it again. I guessed you were a novice farmer named Henry who was wondering how often he has to plow his fields. 
There's definitely something wrong with you, and it's YOU HAVE COVID. Where did you find this "new" girlfriend? New Zealand? 
I'm just kidding, Sean. I'm sure there's no COVID in Albany. 
So your ex-stripper girlfriend is making you uneasy. Story of my life. I'm kidding again — I've never had a girlfriend.
OK, seriously? I don't care about this. This is not a problem. Are you afraid she's going to start stripping at your mom's house when you take her to meet your mom? And then your mom will think stripping is cool, and she'll want to strip too? And then your mom will leave your dad and run away with this woman and open a strip club where they both spend all day stripping? Are you afraid they'll name the strip club "Stupid Sean's"? 
I've got news for you, Sean: You're a stripper. I'm a stripper, too. We're all strippers. Humans are all hustlers, working to put food on the table. Some of us work in cubicles, stripped of the sun and sky. Some earn lofty degrees, and are stripped of their youth. Some of us actually strip, and get to dance naked to heavy metal. 
Here are the things you should really be worrying about: Is she nice? Are you nice? Does she snore? Do you snore? Do you both enjoy Boardwalk Empire? 
Here's a poem about stripping:
STRIPPING
honesty 
that's what there 
isn't enough of 
in this world
we have buckets 
and 
boatloads of fear and sanctimony 
which become judgment
when we put em 
in blenders 
in our mean little
kitchens 
we could be shaking 
our asses
like 
free naked icebergs
but we put on faces
like deck rivets
and go down with 
the ship