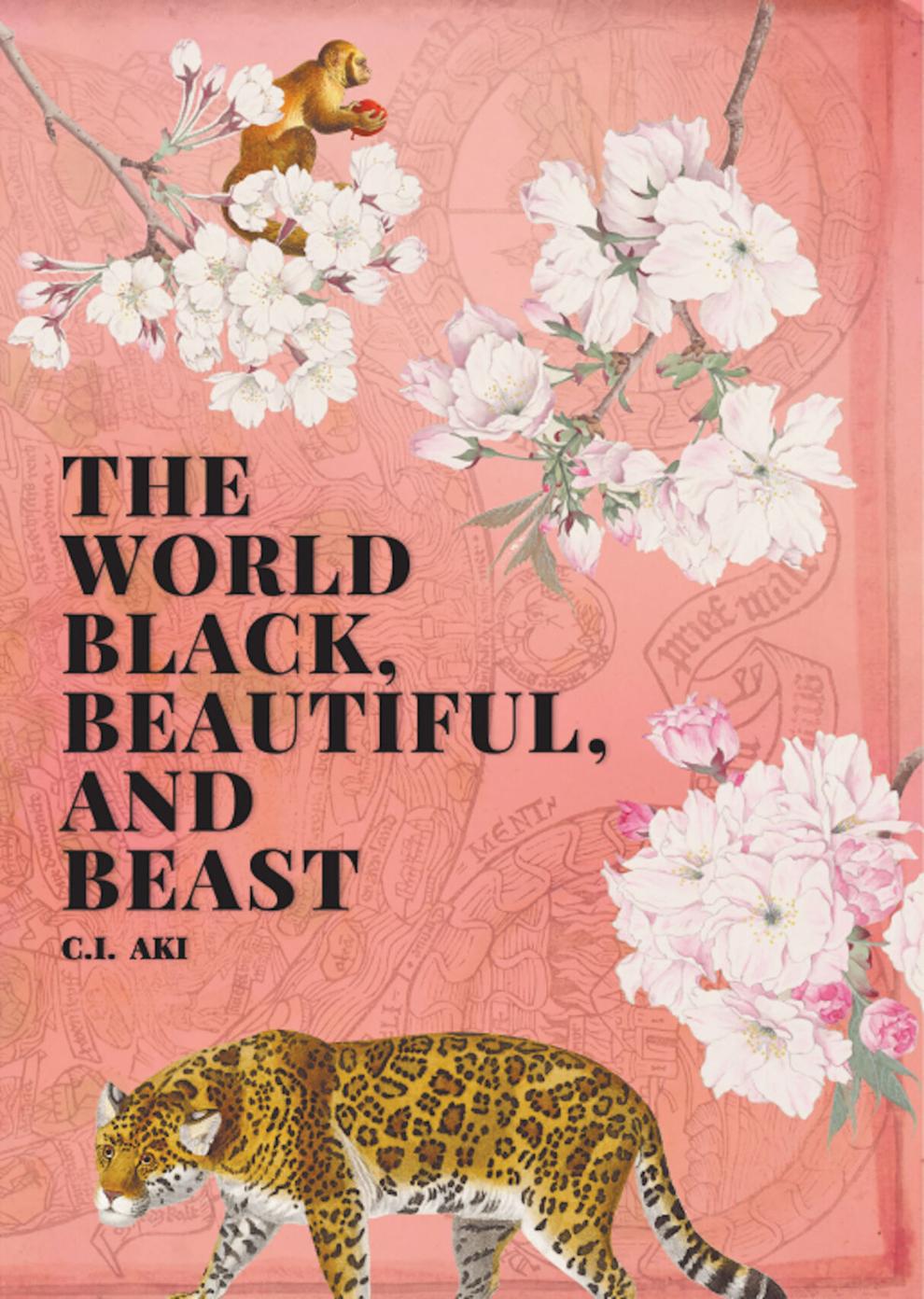 C.I. Aki's volume of poetry, The World Black, Beautiful, and Beast, is a collection entirely of this moment. Through verse that yearns for justice in a seemingly white world, Aki depicts scenes of Black resilience and Black joy. This is accomplished via a certain poetic pointillism, in which each poem captures a particular aspect of Black experience. When we stand back and view the collection as a whole, our vision adjusts to a larger picture of Black persistence and future. The Nashvillian's debut collection is available now from the local small press April Gloaming.  
The book opens with "Will They Feed Their Eyes?,"  a poem that after a second Black Lives Matter movement, seems addressed to the newly "woke" masses. Aki's lines stand in that vacuum — the kind that is created following any revolution: "now awakened, will they / feed their eyes to see." Now that our eyes have been opened to age-old atrocities, will we go further than mere observation — to truly seeing? The way forward, Aki asserts, is by paying attention to the stories written on the lives around us: "will they follow the stories the skin keeps?" This is a prescient metaphor in a touchless, contactless hour. The pandemic has robbed us of physical touch, and we rely on digital financial transactions that render touch obsolete. Our bodies are living archives, as was evidenced by enslaved Africans whose backs, whipping after whipping, became topographical road maps. 
Aki's poems possess a filmic quality, which is particularly evident in "Only a Poem (Ars Poetica)": "The chrysanthemums on the casket spray covered paw-paw's / Resting face." We are immediately spirited to the scene, tasting and touching the present tension. Perhaps this should not come as a surprise to the reader, as Aki is also a filmmaker, essayist and educator. Even with highly aesthetic imagery, the language throughout the book remains accessible. Aki relies on syntax and repetition rather than obscure vocabulary. This ensures that both the oppressed individuals he writes about and their oppressors will be able to locate themselves within the poetic narratives.  
 The poems in this collection embody several styles, including shaped poems, such as "Black Not Allowed Genius," whose sharp edges conjure a lightning bolt or a pane of broken glass. The poem "I" describes the narrow strictures of life, and the words on the page form the shape of a slender pen. Other poems take the form of brief, anxious takes such as "Colors and Light," which is also reminiscent of Harlem Renaissance poet Countee Cullen's book Color. Aki ponders: "is life every chance / for light / and color / to find the other truth of life?" He sustains this metaphoric interplay for the length of the work. Color and light break the surface as symbols for race and verity. Through a lyrical investigation of these themes, Aki rebuts assumptions of whiteness as truth.
 In "The Problem of Pain (When It Doesn't Kill You)" Aki writes in contrast to the adage "what doesn't kill you makes you stronger." He debunks this myth, carving out for us the image of a life lived in this gray place — when the blows keep coming, but relief of death never arrives. When pain doesn't kill us, it does not fortify us, or boil over like a dream deferred, but rather it awakens us to ourselves. And we investigate the business of truly living, he asserts, in the face of everything that could eliminate us. In essence, we continue. 
Aki's verse seems to anticipate those who would offer unsolicited editorial suggestions to his lines, and to our lives. In "The Right Fight to Be," he declares: "It's my god-giving—yes, giving—right to fight." Aki knows that the grammarians or well-intentioned white folks will soon come to correct him — It's God-given — so he makes them aware from the outset that he is in control of the pen. In like manner, he establishes his sphere of resistance, preempting further inquiry: "To stay right here—yes, here—and now." 
The World Black, Beautiful, and Beast is both a salve and a probe in a world hostile to Blackness, which, Aki might argue, "Continues to consume the limits / Of its hunters." It is a balm in Gilead for Black pilgrims who are well acquainted with grief. We take refuge in the elegiac shelter of words woven here. Yet, this book is a probe for those same individuals that it comforts. It both acknowledges our grief and pushes us to make something of it — even if that's a song of lament.